Anti-Slip Paint Clear. Non-Slip Spray Treatment & Coating For Slippery Surface & Material. Vinyl, Laminate, Wood & Metal. Ideal On Concrete Floor with Epoxy Paint & Stairs. Indoor & Outdoor Uses Singapore.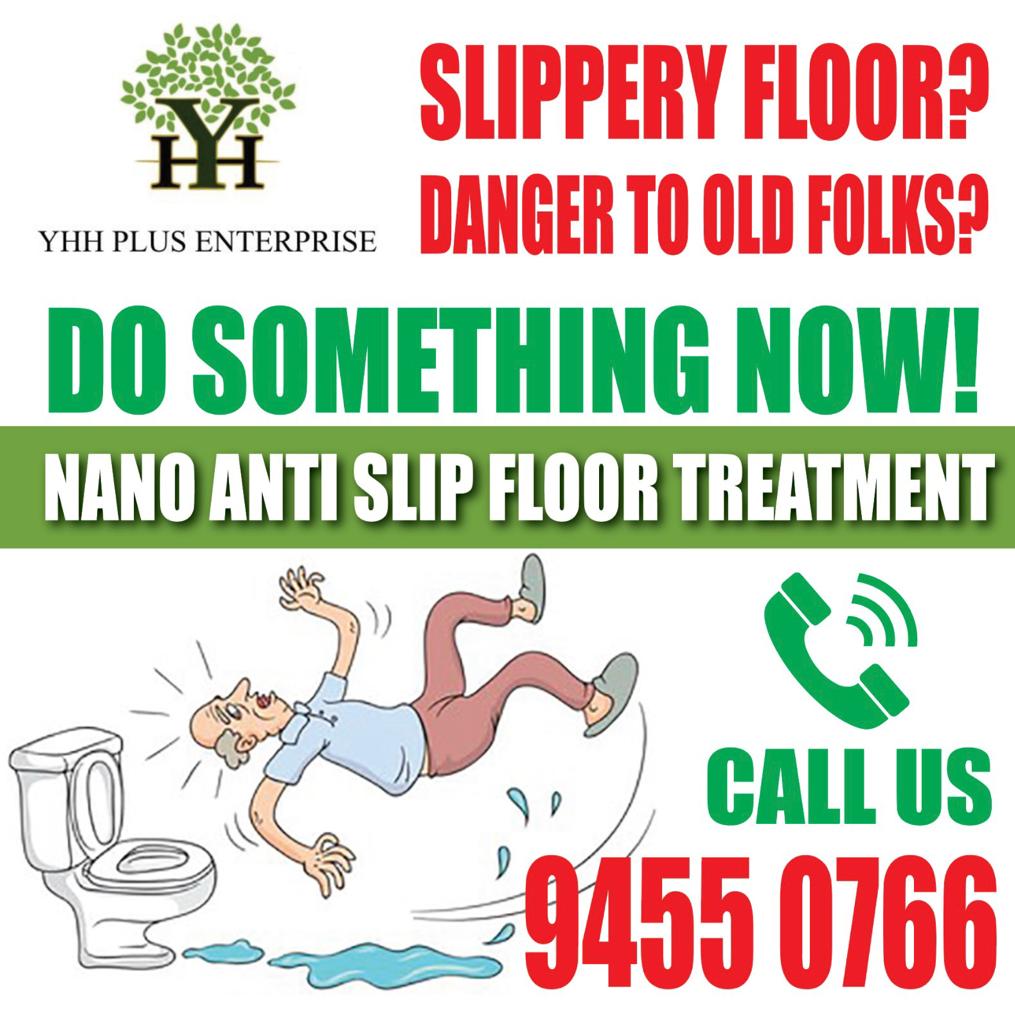 YHH Nano Anti-Slip Paint & Spray Treatment
YHH best clear anti-slip paint and non-slip spray provide great options for improving slip-resistant to create a non-slip surfaces and materials in Singapore. The non-skid coating offers several benefits. Primarily focused on enhance grip for safety and preventing slip and fall accidents.
The versatile nano extra fine anti-skid paint products. Such as clear non-slip spray and anti-skid paint come with various form. It can be invisible non-slip solution or extra fine layered coating. Which is specifically designed for different tile floor and surface.
Such as for mosaic, porcelain, homogenous and ceramic tiles. Natural stone such as granite, terrazzo and marble floor. Wood, hardwood, laminate and vinyl flooring. Concrete floor with epoxy paint coating. Metal flooring like iron, steel and aluminum.
Ideal for different environments settings such as indoor and outdoor areas. For example, shower, bathtub, kitchen, bathroom and toilet flooring. HDB residential, commercial, industrial and public areas Singapore.
Here are some key advantages of YHH Nano anti-slip paint and non-slip spray treatment.
1. Enhanced Slip Resistance For Safety.
Nano non-slip floor treatment increase the slip resistance of tiles tremendously. Therefore, reduce the risk of slipping under soapy and wettest conditions. Especially in areas prone to moisture or other slippery substances like bathrooms, kitchens, industrial floors and outdoor surfaces.
2. Accident Prevention.
Anti-slip floor solutions help to prevent slip and fall accidents. This is absolutely important for our rapid increase aging population of Singapore. Especially for elderly, seniors. disabled and young to understand more prevention knowledge of slippery hazards. Which can result in injuries ranging from minor bruises to severe fractures or head injuries.
This can save individuals from physical harm and reduce liability for property and homeowners or businesses.
 3. Versatility Anti-Slip Paint.
YHH anti-slip treatment can be applied on many surfaces. Each type of non-slip paint & anti-slip spray has its own characteristics. For light or dark color. Matt, glazed or gloss surfaces.
4. Cost-Effective Anti-Slip Paint & Spray.
Installing anti-slip spray, paint & coating treatment is generally more cost-effective than replacing entire flooring surfaces. It's at affordable pricing to improve safety without need of extensive renovation.
5. Anti-Slip Paint Instant Effect.
These non-skid paint, anti-skid spray and treatment can be applied relatively quickly. It can also be instant effect on tiles. Therefore, we can minimize downtime for businesses and homeowners during installation. The floor can be used immediately upon completion.
 6. Longevity.
Nano anti-slip paint. non-slip spray coating and treatments can have a long lifespan. Providing ongoing protection against slip hazards. Proper understanding of right cleaning method is crucial for better grip for semi or permanent effect.
 7. Easy Maintenance.
Maintaining a anti-slip surfaces is typically straightforward. Regular cleaning and minor touch-ups can help to ensure their continued effectiveness.
8. Eco-friendly Flooring.
This is an eco-friendly, non-toxic and non-corrosive floor coating, spray and paint. As our clear nano solution is not an acid chemical etching on tiles. Therefore, it is barefoot and pet-friendly flooring for dogs and cats too. UV and chemical resistant suitable for indoor and outdoor tiles.
9. Peace of Mind.
Home and property owners can have a peace of mind. Knowing they have taken proactive measures to protect safety of loved ones, occupants, visitors and employees. At home, factory, office and workplace.
YHH Nano Anti-Slip Paint & Spray.
Overall, our anti-slip floor coating and treatments are a practical and cost-effective way to reduce slips and falls. Making them a valuable addition to various residential, commercial and industrials setting Singapore.
BCA and SS485:2001 specification for slip resistance classification of pedestrian flooring, ramp and surface materials.
We are the trusted floor coating specialist and contractor Singapore. YHH anti slip epoxy paint is proven to be cost effective and hassle-free solution to solve slippery tiles. No hacking, epoxy floor or tiles overlay is required. In addition, with glowing reviews from homeowners and past projects.
Exclusive to supply and install in Singapore. Not a DIY non-skid product.
No future defect cost will be incurred due to peeling off and cracking.
Suitable for all residential HDB and private homes. Such as bathroom flooring, toilet, shower, bathtub and kitchen. For interior and exterior uses.
Have a peace of mind for your families and loved ones. Especially elderly, seniors and young at home. Employees and staffs at office and workplace.

YHH Nano Anti-Slip Floor Paint & Spray.
Residential Home (Private & HDB Toilet & Bathroom Floor) | Commercial | Industrial.
Indoor and Outdoor Tiles.
Non-slip bathroom tiles elderly. Toilet anti-slip coating. Anti-slip for shower. Anti-skid spray for kitchen. Non-skid outdoor tiles. Bathtub Anti-slip spray. etc.
Common Lobby. Walkway. Car Porch. Factory. Corridor. Pavement. Paver. Car Park. Car Porch. Wet Room. Garage. Warehouse. Void Deck. Driveway. Railings. Ramp. Balcony. Utility Room. Patio. Pool Decking. Wood Decking. Back Yard. Stairs. etc.
Best Anti-Slip Coating for Floor Tiles.
Natural Stone. Marble. Onyx Tiles. Travertine. Granite. Quartz. Ceramic Tiles. Mosaic Tiles. Porcelain Tiles. Terracotta. Homogenous Tiles. Stoneware. Limestone. Parquet, Wood. Engineered Timber. Solid Hardwood. Softwood. Composite Decking. Metal. Steel. Aluminum. Acrylic, Fiberglass. MMA. Vinyl Flooring. Laminate Floor. Concrete Cement. Pebble Wash. Polyurethane Floor Paint. etc.
YHH PLUS ENTERPRISE.
Address: 58 Ripley Crescent Singapore 556234.
Email: sales@antislipsolution.sg