Anti-Slip Spray For Vinyl & Laminate. Best Anti-Skid Varnish & Polyurethane For Wood. Non-Slip Epoxy Paint & Non-Skid Treatment. Clear Anti-Skid Polish & Flooring Singapore.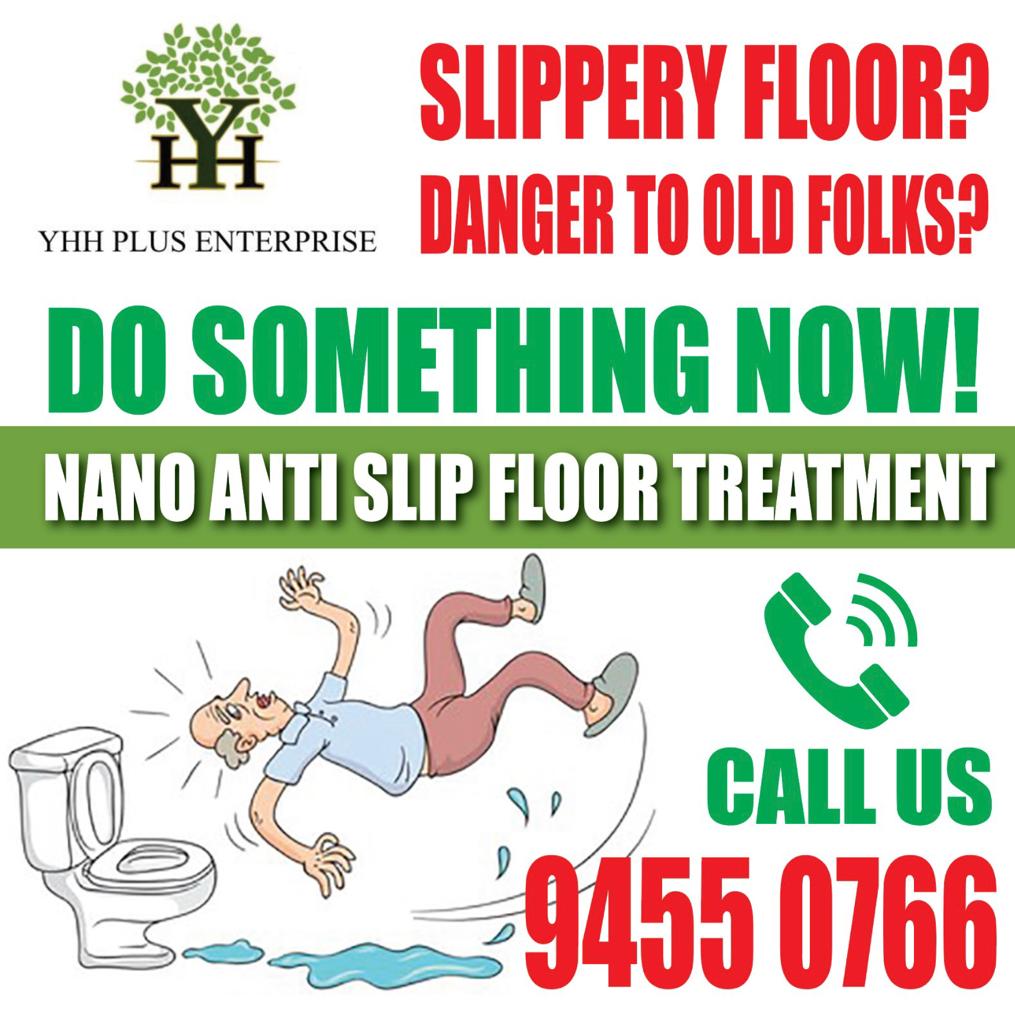 Looking to solve slippery wood, vinyl and laminate floors?
YHH Plus Enterprise offer the best clear anti-slip spray & coating for wood, vinyl and laminate floor. The non-slip spray coating create an extra fine semi-gloss finish on the surface that enhance the slip resistant.
It is extremely durable, lasting and UV resistant which is suitable for indoor and outdoor floor. Ideal for metal flooring, iron, aluminum and steel too.
Therefore, it's suitable for stairs, decking, ramp, pool and concrete floor with epoxy coating and floor paint.
Our nano non-skid spray, paint and coating is a versatile solutions for improving safety in various settings. Such as residential HDB homes, commercial spaces or industrial facilities.
You may be interested for other YHH nano anti-slip products for tiles and other surface materials.
1. Anti-Slip Floor Spray For Tiles.
Looking to treat for anti-slip porcelain tiles, ceramic tiles, mosaic and homogenous floor? There are few types of anti-skid spray coating for matte tiles. They are specifically designed for different nature and color of tiles. Therefore, able to retain  the appearance of existing tiles and attain the desired anti-skid effect.
2. Non-Slip Coating For Glazed, Gloss & Polished Tiles.
To maintain the glazed, gloss and polished surface of the tiles. Such as polished porcelain tiles. YHH specifically designed non-slip tile coating can retain the glossiness and strike a balance for slip rating.
3. Anti-Slip Treatment For Marble, Granite & Natural Stone Sealant.
How about marble non-slip, granite and natural stone? We have anti-slip sealant for marble, travertine, granite and limestone tiles. YHH natural stone non-slip sealer designed for honed or polished marble and granite.
4. Non-Slip Spray For Vinyl, Laminate, Wood & Epoxy Flooring.
Extra fine clear non-skid coating, spray and anti-slip decking stain. Such as anti-slip spray for wood, timber and parquet. Vinyl, laminate and rubber flooring. Steel, metal and aluminum. Fiberglass and acrylic materials. On concrete floor, epoxy flooring and paint coating. UV resistant suitable for outdoor stairs, concrete, decking and tiles.
Cost Effective & Hassle-Free.
We are the trusted floor coating specialist and contractor Singapore. YHH anti-slip floor coating is proven to be cost effective and hassle free solution to solve slippery tiles. In addition, with glowing reviews from homeowners and past projects.
Suitable for all residential HDB and private homes. Such as bathroom flooring, toilet, shower, bathtub and kitchen. For interior and exterior uses.
Exclusive to supply and install in Singapore. Not a DIY non-skid product.
YHH nano non-slip floor treatment for tiles is non-toxic, eco-friendly and non-corrosive. UV and chemical resistant. Barefoot friendly and safe for dogs and pets too.
In addition, it will not peel off and degrade. Lastly, it is chemical-resistant and not an acid etching on tiles to leave on. No grits, small particles, additives or sand will be formed. Therefore, make it easier for cleaning maintenance. It also allows hard brushing and scrubbing.
No future defect cost will be incurred due to peeling off and cracking.
BCA and SS485:2001 specification for slip resistance classification of pedestrian flooring, ramp and surface materials.
Slip and fall accidents can caused serious injuries. Such as broken bones, spine and head. Especially on highly risk wet areas. Such as bathtub, shower, kitchen, bathroom and toilet flooring.
No hacking, epoxy floor or tiles overlay is required. The best cost-saving method to remove slippery tiles hazard.
Learn how to protect yourself and your loved ones. Especially for elderly, seniors and disabled at home. Employees and co-workers at workplace from slip and fall hazards.

Nano Anti-Slip Spray Coating.
Residential Home (HDB Toilet, Bathroom) | Commercial | Industrial.
Non-Slip Flooring Contractor & Renovation Singapore.
Non-Skid Indoor and Outdoor Tiles. 
Non-slip bathroom flooring. Toilet non-skid flooring. Anti-Skid shower treatment. Anti-skid flooring for kitchen. Non-skid bathtub coat. etc.
Common Lobbies. Walkways. Paver slabs. Corridors. Pavements. Patio. Car Porch. Carpark. Swimming Pool Deck. Decking. Yard. Utility Room. Stairs. etc.
Best Non-slip spray for tile floor.
Marble. Granite. Travertine. Onyx Stone. Ceramic Tiles. Porcelain. Quartz. Terracotta. Homogenous. Parquet. Wood. Hardwood. Decking. Acrylic. Vinyl Flooring. Laminate Floor. Concrete. MMA. Pebble Stone. Epoxy Floor Paint. Polyurethane Paint. etc.
YHH PLUS ENTERPRISE.
Address: 58 Ripley Crescent Singapore 556234.
Email: sales@antislipsolution.sg