Non-Slip Bathroom Renovation. Best Anti-Slip Toilet Flooring Singapore.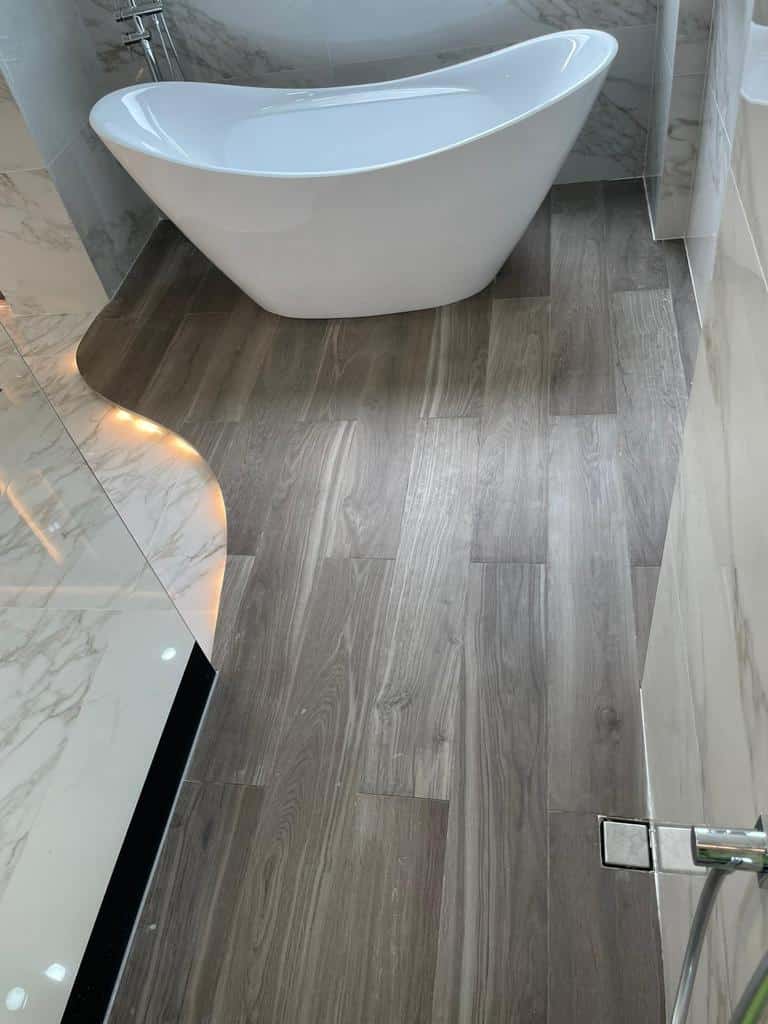 A best bathroom and toilet renovation can transform these spaces and enhance their functionality.
A modern makeover toilet and bathroom renovation should be a more spacious layout and well-ventilated. Such as a sleek shower, floor tiling, walls, vanity or free-standing bathtub.
The interior design trends can be simple sophisticated but elegant. Most importantly, it must be comfortable and safer to use to suit your requirements.
Here's a general guide and ideas for such a renovation.
1. Bathroom Planning and Design.
Determine your budget and create a detailed renovation plan. Consider your design preferences, layout changes and fixtures.
2. Bathroom Demolition.
Remove old fixtures, tiles and any unwanted structures.
3. Plumbing and Electrical Work.
Update or relocate plumbing and electrical systems as needed. Install new fixtures, such as sinks, toilet bowls and showers.
4. Bathroom Flooring.
Bathroom flooring should be slip resistant under wet or soapy surfaces. A matt slip rating tiles or vinyl flooring is highly recommended than a gloss or polish surface. Tiling should be designed so that water can flow smoothly to floor trap. Good drainage and plumbing are essential to prevent water accumulation.
Using the appropriate ratio of cement mortar for tiling is highly recommended. Such as hacking or overlay of tiles to prevent hollow tiles.
5. Bathroom Walls.
Repair or replace walls and install waterproof materials in wet areas. Consider wall tiles or decorative paint for aesthetics.
Gloss, polish tiles or natural stone can be installed on walls to match the floors for a elegant looks and easier to maintain.
6. Waterproofing.
This is an important step for renovating bathroom and toilet. Apply waterproof membranes to ceilings, walls and floors. Focus on areas that are exposed to water. Such as sink, toilet, shower and bathtub. Use waterproof sealant to fill gaps and create a watertight seal. You can choose a more durable and waterproofing epoxy grout for the tiles and more resistant to stains.
7. Bathroom Lighting and Ventilation.
Upgrade lighting fixtures for better visibility. Ensure proper ventilation to prevent mold and moisture buildup.
8. Cabinetry and Storage.
Install new floating cabinets or vanity units for storage. This can prevent water spills on the it. Choose countertops, shower screen and door that match the overall design. It is highly recommended to choose water-resistant materials to prevent rusting.
9. Fixtures and Accessories.
Install towel racks, water heaters, mirrors and other accessories. Such as handrails and grip bar for safety. Ensure they complement the design, functional and easily accessible for daily use.
10. Paint and Finishing.
Paint the walls and ceiling in the desired colors. Apply a sealant to protect surfaces in wet areas.
11. Final Inspection.
Have a professional defect inspector for bathroom renovation can ensure everything is up to code and functioning correctly.
12. Bathroom Clean Up.
Thoroughly clean the renovated space and remove debris.
13. Decor and Personal Touches.
Add your personal touches with decorations, towels and other accessories.
14. Maintenance.
Regularly maintain fixtures and the renovated space to keep it in top condition.
It's wise to consult with a professional contractor or designer to help plan and execute the project. They can ensure that the toilet renovation meets safety and building code requirements. Especially when the electrical cable and water pipes are concealed nowadays.
Bathroom & Toilet Flooring Singapore.
We are the trusted floor coating specialist and contractor Singapore. YHH anti-slip coating is proven to be cost effective and hassle-free solution to solve slippery tiles. No hacking, epoxy floor or tiles overlay is required. In addition, with glowing reviews from homeowners and past projects.
Extra fine clear anti-slip paint, spray and non-slip decking stain. Designed specifically for wood, timber and parquet. Vinyl, laminate and rubber flooring. Steel, iron, metal and aluminum. For bathtub fiberglass and acrylic materials. On concrete floor with epoxy coating and floor paint. UV resistant suitable for outdoor stairs, concrete, decking and tiles.
Exclusive to supply and install in Singapore. Not a DIY non-skid product.
No future defect cost will be incurred due to peeling off and cracking.
Suitable for all residential HDB and private homes. Such as bathroom flooring, toilet, shower, bathtub and kitchen. For interior and exterior uses.
BCA and SS485:2001 specification for slip resistance classification of pedestrian flooring, ramp and surface materials.
Have a peace of mind for your families and loved ones. Especially elderly, seniors and young at home. Employees and staffs at office and workplace.

YHH Nano Anti-Slip Floor Treatment.
Residential Home (Private & HDB Bathroom Flooring) | Commercial | Industrial.
Indoor and Outdoor Tiles.
Non-slip bathroom flooring elderly. Toilet flooring anti-slip coating. Anti-slip for shower. Anti-skid spray for kitchen. Non-skid outdoor tiles. Bathtub Anti-slip spray. etc.
Common Lobby. Walkway. Car Porch. Factory. Corridor. Pavement. Paver. Car Park. Car Porch. Wet Room. Garage. Warehouse. Void Deck. Driveway. Railings. Ramp. Balcony. Utility Room. Patio. Pool Decking. Wood Decking. Back Yard. Stairs. etc.
Best Anti-Slip Coating for Floor Tiles.
Natural Stone. Marble. Onyx Tiles. Travertine. Granite. Quartz. Ceramic Tiles. Mosaic Tiles. Porcelain Tiles. Terracotta. Homogenous Tiles. Stoneware. Limestone. Parquet, Wood. Engineered Timber. Solid Hardwood. Softwood. Composite Decking. Metal. Steel. Aluminum. Acrylic, Fiberglass. MMA. Vinyl Flooring. Laminate Floor. Concrete Cement. Pebble Wash. Polyurethane Floor Paint. etc.
YHH PLUS ENTERPRISE.
Address: 58 Ripley Crescent Singapore 556234.
Email: sales@antislipsolution.sg