Epoxy Flake Flooring & Flakes Coating Singapore. Best Epoxy Paint & Stone Pebble Flooring Non-Slip. Anti-Slip For Bathroom. Toilet, Shower & Kitchen Floor Tiles. Clear Non-Skid Spray Paint & Anti-Skid Paint Outdoor. HDB Residential, Commercial & Industrial.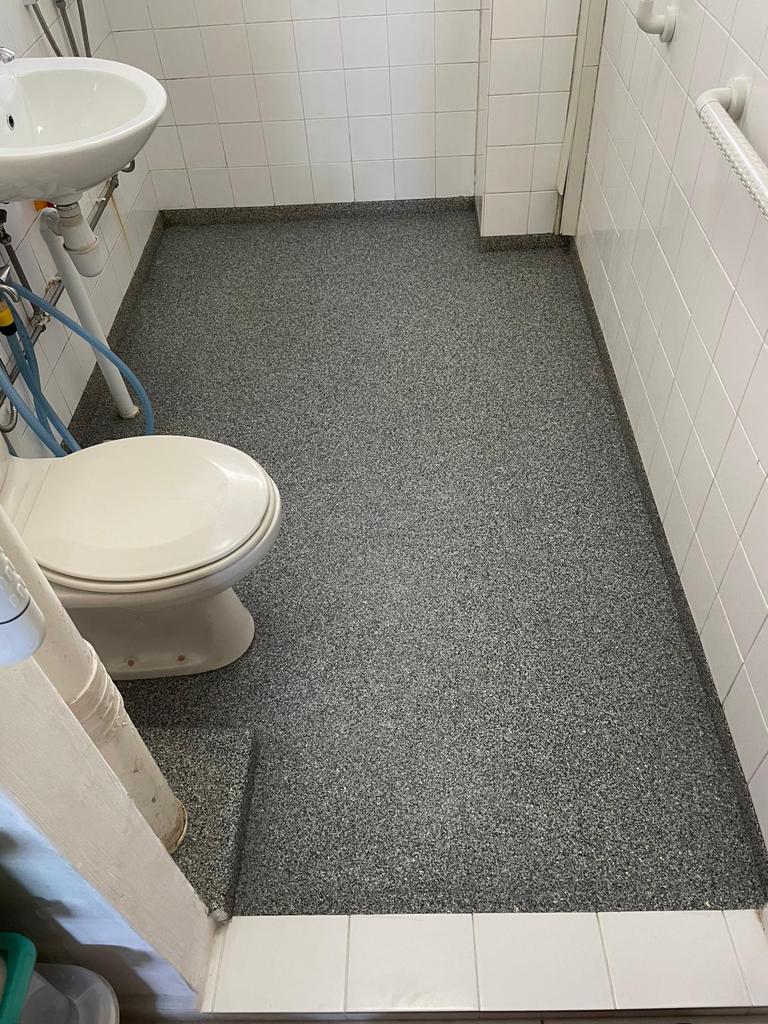 Epoxy Flakes Coating & Floor Paint.
Epoxy flake flooring and epoxy paint are popular choices for bathroom and toilet flooring. Due to the waterproofing, durability and water resistance. Both can create a visually appealing flooring solution.
Bathroom epoxy flake flooring involves applying multiple overlays of resin on the floor surface. Anti-slip additives or aggregates are added on the wet epoxy base coat. Such as decorative colored flakes, pebble or chips. For a textured and attractive finish.
While epoxy paint is normally a single layer coating that contain resins and hardeners.
These floor coating creates a seamless surface that is resistant to water, chemicals and stains. Both installations come with various colors and finishes which allow for customization.
Therefore, epoxy flake coating, pebble flooring and floor paint can transform bathroom and toilet floor into attractive, low-maintenance surfaces. That are suitable for both residential and commercial use.
But epoxy floor coating and floor paint can be slippery. Even though, non-slip aggregates or additives are added. Especially on frequently wet shower, bathroom and toilet flooring. The rough textured porous surface may trap dirt, stains, shower and bath elements easily. Therefore, it is important to keep the flooring clean and use of appropriate floor cleaner.
Looking to prevent slippery epoxy flake flooring, spray and paint?
We have the solution for you. Let's look at our YHH nano anti-slip products you may be interested.
Anti-Slip Coating For Epoxy Flooring.
YHH Plus Enterprise specialized in clear anti slip coating for toilet flooring Singapore. Our specifically designed anti-slip paint are able to enhance the slip resistant of epoxy flake flooring. UV resistant suitable for indoor and outdoor areas.
We also provide anti slip floor treatment Singapore for tiles. The nano versatile solutions formulated for different tiles aim to maintain the appearance of tiles and greatly increase the slip resistance even on soapy wettest floor.
Moreover, it will not degrade with instant amazing results. No future defects cost will be incurred due to peeling off. The non-slip solution can be reapplied again when is slowly lose it's effectiveness due to dirty tiles.
Find out more for our full range of clear nano anti-skid covering and non-skid coating. Such as anti-slip epoxy coating, non-slip paint and spray products for synthetic materials. Such as epoxy flake flooring and concrete floor with acrylic or polyurethane paint. It can also be applied to wood, vinyl and laminate. Steel, metal and aluminum. Plastic. fiberglass and acrylic bathtub material.
Take action now for a safer anti-skid flooring. Do not wait for slip and fall accidents to happen. Have a peace of mind for your families and loved ones. Especially elderly, seniors and young at home. Employees and staffs at office and workplace.

Check out for more pictures, videos and reviews for anti-slip coating for granite, marble & tiles. Wood, vinyl and laminate.
Best rated with 5/5 160+ trusted reviews.
Epoxy Floor Coating Solutions.
Residential Home (Private & HDB Toilet & Bathroom Floor) | Commercial | Industrial.
Indoor and Outdoor Tiles.
Non-slip bathroom flooring. Toilet non-slip coating. Anti-slip for shower. Anti-skid flooring for kitchen. Non-skid outdoor tiles. Bathtub Anti-slip spray. etc.
Common Lobby. Walkway. Car Porch. Factory. Corridor. Pavement. Paver. Car Park. Car Porch. Wet Room. Garage. Warehouse. Void Deck. Driveway. Railings. Ramp. Balcony. Utility Room. Patio. Pool Decking. Wood Decking. Back Yard. Stairs. etc.
Best Anti-Slip Coating for Floor Tiles.
Natural Stone. Marble. Onyx Tiles. Travertine. Granite. Quartz. Ceramic Tiles. Mosaic Tiles. Porcelain Tiles. Terracotta. Homogenous Tiles. Stoneware. Limestone. Parquet, Wood. Engineered Timber. Solid Hardwood. Softwood. Composite Decking. Metal. Steel. Aluminium. Acrylic, Fiberglass. MMA. Vinyl Flooring. Laminate Floor. Concrete Cement. Pebble Wash. Polyurethane Floor Paint. etc.
YHH PLUS ENTERPRISE.
Address: 58 Ripley Crescent Singapore 556234.
Email: sales@antislipsolution.sg