Anti-Slip Spray Clear. Best Non-Slip Paint, Non-Skid Epoxy Coating. Anti-Skid Floor Coating, Floor Paint Treatment For Flooring & Tiles. Indoor & Outdoor. HDB Residential, Commercial & Industrial Singapore.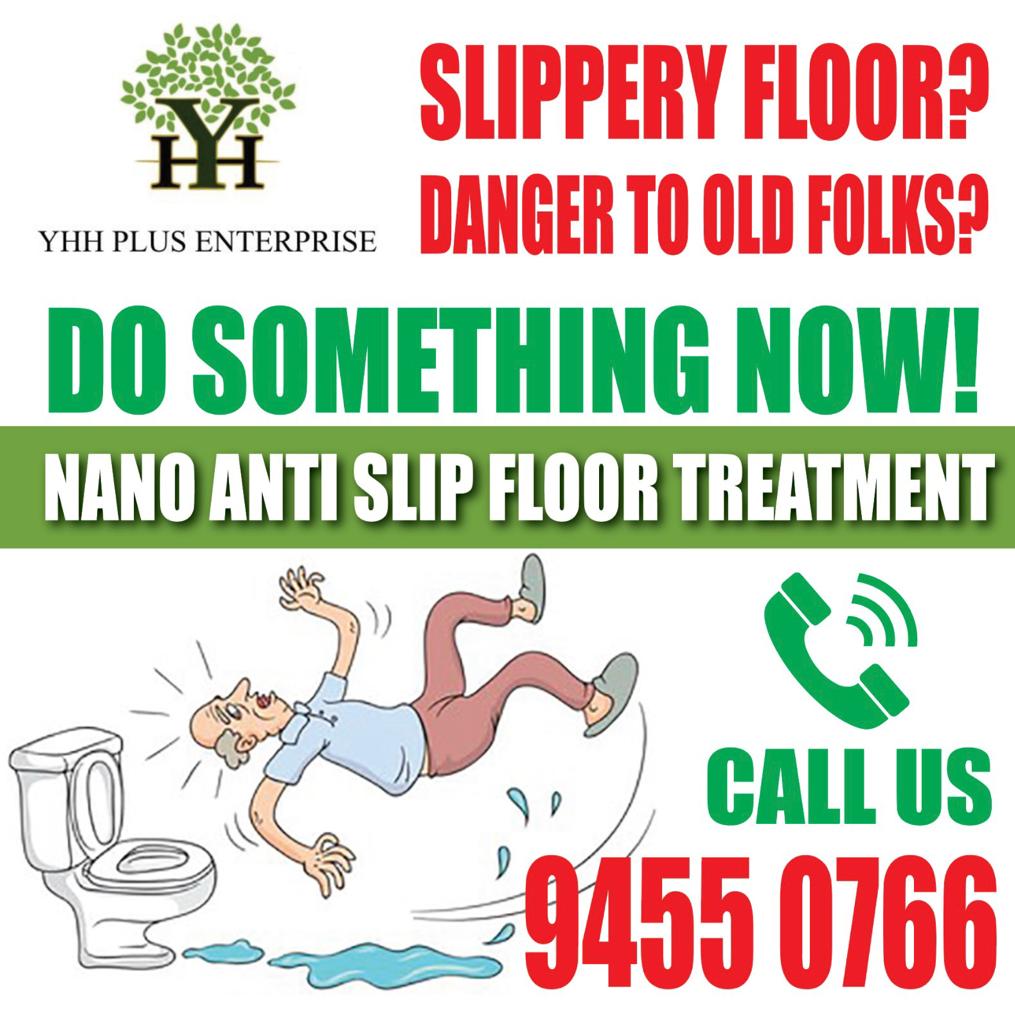 Anti-slip spray, non-slip paint and floor coating help prevent slipping by creating a non-slip surface that provides better slip-resistant.
These anti-skid spray coating and floor paint treatment can be applied to different floor surfaces and materials. Such as floor tiles, natural stone. Like marble, granite, travertine and terrazzo. Wood flooring such as parquet and timber, Synthetic flooring material, vinyl and laminate floors. Metal flooring such as steel, iron and aluminum. Suitable for indoor and outdoor stairs, ramp, pools and concrete floor with epoxy floor coating,
Here's how they work.
1. Texture.
These coatings contain additives like sand, grit, or small particles that create a rough texture on the surface, which makes it less slippery.
2. Adhesion.
When applied to surfaces, the anti-slip coating adheres well, providing a stable grip for shoes or feet.
3. Durability.
They are designed to withstand wear and tear, ensuring the slip-resistant properties remain effective over time.
4. Water Repellent.
Some coatings are water-resistant, which helps maintain grip even when surfaces are wet.
5. Versatility.
Anti-slip coating and floor paint can be applied to a variety of surfaces. Such as floors, stairs, ramps, decks, and more.
By adding these coatings to surfaces, you reduce the risk of accidents caused by slipping. Particularly in areas where slip hazards are a concern, Such as shower, toilet, bathroom flooring. Industrial or commercial floors or outdoor walkways.
YHH Nano Anti-Slip Spray & Paint.
Overall, our best non-slip floor treatment and floor coating are a practical and cost-effective way to reduce slips and falls. Such as extra fine anti-slip spray and non-slip paint. YHH floor coating is UV and chemical resistant. It is easy to maintain as no grits, sand or granules are formed.
Making them a valuable addition to various residential, commercial and industrials setting Singapore.
BCA and SS485:2001 specification for slip resistance classification of pedestrian flooring, ramp and surface materials.
We are the trusted floor coating specialist and contractor Singapore. YHH anti-slip epoxy floor paint is proven to be cost effective and hassle-free solution to solve slippery tiles. No hacking, epoxy floor or tiles overlay is required. In addition, with glowing reviews from homeowners and past projects.
Exclusive to supply and install in Singapore. Not a DIY non-skid product.
No future defect cost will be incurred due to peeling off and cracking.
Suitable for all residential HDB and private homes. Such as bathroom flooring, toilet, shower, bathtub and kitchen. For interior and exterior uses.
Have a peace of mind for your families and loved ones. Especially elderly, seniors and young at home. Employees and staffs at office and workplace.

Check out for more pictures, videos and HDB anti-slip coating for vinyl, laminate reviews.
Best rated with 5/5 160+ trusted bathtroom tiles & toilet flooring reviews.
YHH Nano Anti-Slip Spray & Paint.
Residential Home (Private & HDB Toilet & Bathroom Floor) | Commercial | Industrial.
Indoor and Outdoor Tiles.
Non-slip bathroom tiles elderly. Toilet anti-slip coating. Anti-slip for shower. Anti-skid spray for kitchen. Non-skid outdoor tiles. Bathtub Anti-slip spray. etc.
Common Lobby. Walkway. Car Porch. Factory. Corridor. Pavement. Paver. Car Park. Car Porch. Wet Room. Garage. Warehouse. Void Deck. Driveway. Railings. Ramp. Balcony. Utility Room. Patio. Pool Decking. Wood Decking. Back Yard. Stairs. etc.
Best Anti-Slip Coating for Floor Tiles.
Natural Stone. Marble. Onyx Tiles. Travertine. Granite. Quartz. Ceramic Tiles. Mosaic Tiles. Porcelain Tiles. Terracotta. Homogenous Tiles. Stoneware. Limestone. Parquet, Wood. Engineered Timber. Solid Hardwood. Softwood. Composite Decking. Metal. Steel. Aluminum. Acrylic, Fiberglass. MMA. Vinyl Flooring. Laminate Floor. Concrete Cement. Pebble Wash. Polyurethane Floor Paint. etc.
YHH PLUS ENTERPRISE.
Address: 58 Ripley Crescent Singapore 556234.
Email: sales@antislipsolution.sg