Fix Slippery Tiles Hazards. Best Anti-Slip Solutions To Prevent Trip, Slip and Fall Accidents. Slip-Resistant Coating For Indoor & Outdoor Floor Decking, Concrete & Stairs. Residential Home, Commercial Building, Restaurant Kitchen & Business Office. Industrial Warehouse & Factory Singapore.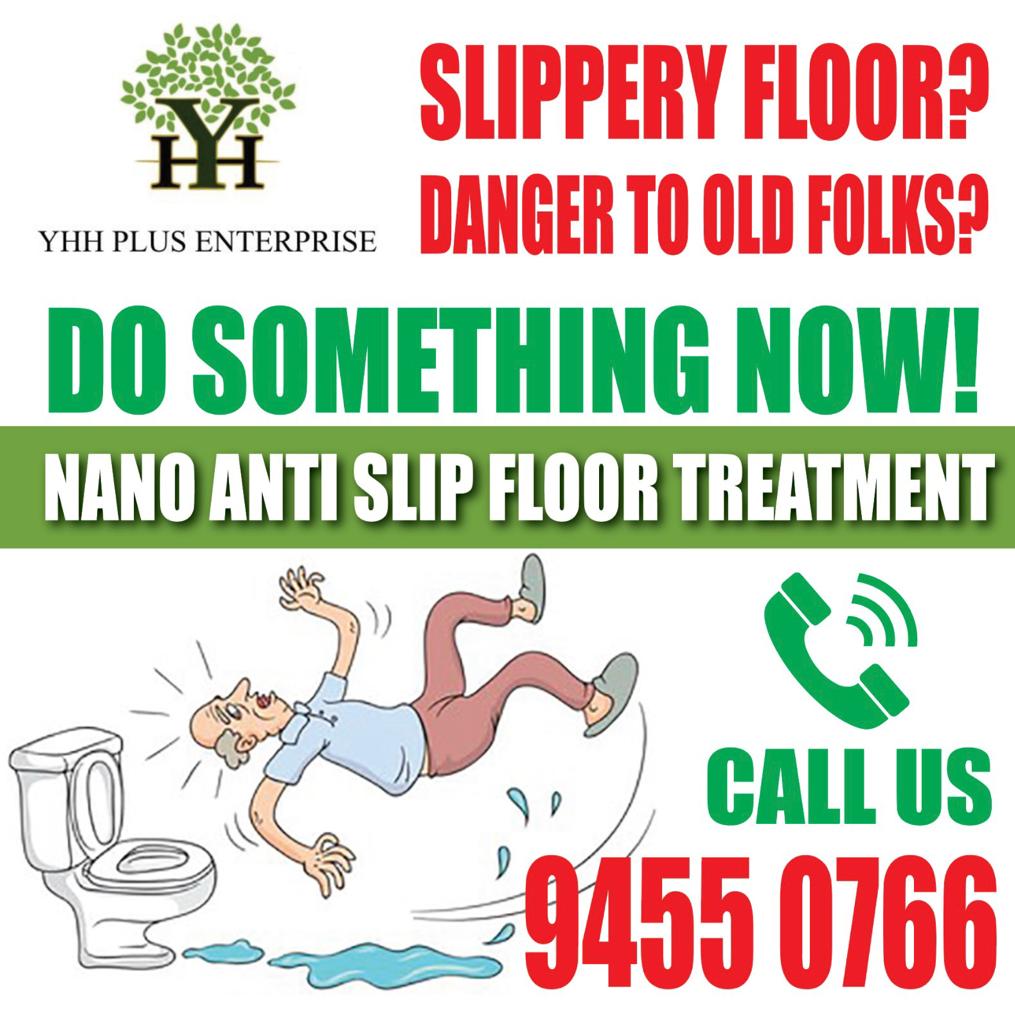 Consequences Of Slippery Tiles.
How to fix, solve, address and remove slippery tiles at home and workplace is important and essential. Such as indoor & outdoor commercial buildings, restaurant kitchens. Industrial warehouses, factories, concrete, stairs and decking.
Because trip, slip and fall incidents at home and the workplace can have various consequences. Ranging from minor inconveniences to severe injuries and legal liabilities. Especially for wet areas like bathroom, toilet, shower, bathtub and kitchen.
Here are some potential consequences.
1. Personal Injury.
Minor bruises, sprains, or strains.
More severe injuries like fractures, concussions or dislocations.
Long-term disabilities or chronic pain resulting from the fall.
2. Medical Costs.
Medical expenses for treatment and rehabilitation.
Costs of medication, physical therapy or assistive devices.
3. Lost Wages.
In workplaces, employees may miss work due to injuries, resulting in lost wages.
4. Pain and Suffering.
Physical pain and emotional distress due to the injury.
5. Reduced Quality of Life.
Decreased mobility and independence, especially for severe injuries. Particular for aging seniors and elderly.
6. Legal Consequences.
Liability issues in the workplace can lead to lawsuits and compensation claims by employees.
7. Property Damage.
Damage to personal property during the fall.
8. Increased Insurance Costs.
Increased premiums for homeowners or business insurance.
9. Workplace Productivity.
Reduced productivity and morale in the workplace due to safety concerns.
10. Reputation Damage.
For businesses, a slip and fall incident can harm their reputation. Especially if it's seen as a result of negligence.
11. Regulatory Penalties.
In workplaces, violations of safety regulations may result in fines or penalties from regulatory authorities.
Therefore, preventing slip and fall incidents through proper safety measures and awareness is crucial to avoid these consequences.
At home and in the workplace, proactive measures can help reduce the risks and mitigate the potential fallout of slip and fall accidents.
Here are some steps you can follow.
1. Non-Slip Coatings or Slippery Treatments.
Apply non-slip coatings or treatments to the tiles to increase traction. These floor coatings are available for various types of tiles. Such as anti-slip spray, non-slip paint or decking stain.
2. Non-Slip Epoxy Coating & Flakes Flooring.
Install epoxy coating such as anti-slip epoxy paint with additives, sand and aggregates. Such as epoxy flakes flooring or pebble floor coating.
3. Slippery Stair Treads & Nosing.
Stairs nosing such as stair treads and tapes can be applied on steps. Check and maintain stair treads to ensure they are not worn or damaged.
4. Keep Slippery Walkways Clear.
Ensure that walkways are clear of clutter, cables or objects that could be tripped over.
5. Anti-Slip Mats or Rugs.
Place anti-slip mats or rugs in areas with slippery tiles. Such as entryways, kitchens or bathrooms.
6. Non-Slippery Footwear.
Encourage the use of non-slip footwear. Especially in the workplace, where safety shoes with slip-resistant soles may be necessary.
7. Clean Regularly.
Keep tiles clean and free from spills, debris, or substances that can make them slippery. Promptly clean up any spills.
8. Use Slip-Resistant Cleaning Products.
Use cleaning products specifically designed to maintain the slip resistance of tiles.
9. Matting Systems.
In the workplace, consider matting systems with drainage capabilities in areas prone to wetness. Like kitchens or production areas.
10. Handrails and Grab Bars.
Installation of handrails and grab bars. Especially in bathrooms, toilets and showers to provide stability on slippery surfaces.
11. Lighting.
Ensure adequate lighting in all areas to help identify potential hazards.
12. Slippery Warning Signs.
Use warning signs or cones to alert people to slippery areas. Especially in the workplace, corridor and pathway.
13. Regular Maintenance.
Inspect tiles regularly to identify and repair any damage or wear that could lead to slipperiness.
14. Employee Training.
In workplaces, provide training on slip and fall prevention and the correct response to accidents.
15. Assess Slippery Floor Material.
Consider replacing the tiles with a more slip-resistant material if the tiles are consistently hazardous. Works perfectly well with anti-slip treatment.
16. Slippery Safety Standards.
Ensure that your workplace complies with safety standards and regulations regarding slip resistance. Identify and evaluate the potential risks of work activities. Then implement risk control measures to eliminate or lower the severity and likelihood of accidents. Such as personal protection equipment (PPE) and lifeline.
Conclusion- Anti-Slip For Slippery Tiles
YHH Plus Enterprise offer the best clear anti-slip floor treatment Singapore, non-slip spray & coating for slippery tiles.
YHH nano anti-slip floor coating is non-toxic, eco-friendly and non-corrosive. Pet-friendly flooring for pets and dogs.
In addition, it will not peel off and degrade. Lastly, it is chemical-resistant and not an acid etching on tiles to leave on. No grits, small particles, additives or sand will be formed.
Therefore, make it easier for cleaning maintenance. It also allows hard brushing and scrubbing. No future defect cost will be incurred due to removal and cracking.
No hacking of tiles or epoxy overlay is required. Therefore, it is the best cost-saving method to remove slippery floor tiles.
Other types of clear extra fine semi-gloss anti-slip epoxy coating on the surface creates a finely barefoot-friendly and comfortable feel for interior and exterior uses.
It is extremely durable, lasting and UV resistant which is applicable for indoor and outdoor floor. Ideal for metal flooring, iron, aluminum and steel. Wood flooring like parquet, hardwood and timber. Synthetic materials such as PVC, vinyl and laminate floor.
Therefore, it's suitable for stairs, decking, ramp, pool and concrete floor with epoxy floor paint and coating.
We are the trusted floor coating specialist and contractor Singapore. YHH non-skid coating is proven to be cost effective and hassle-free solution to fix slippery tiles.
BCA and SS485:2001 specification for slip resistance classification of pedestrian flooring, ramp and surface materials.
Learn how to protect yourself and your loved ones. Especially for elderly, seniors and disabled at home. Employees and co-workers at workplace from slip and fall hazards.

Nano Anti-Slip Floor Treatment.
Residential Home (HDB Bathroom & Toilet) | Commercial | Industrial.
Non-Slip Flooring Contractor & Renovation Singapore.
Non-Skid Indoor and Outdoor Tiles. 
Non-slip bathroom flooring. Toilet non-skid flooring. Anti-Skid treatment. Anti-skid flooring for restaurant kitchen. Non-skid bathtub spray. etc.
Common Lobbies. Walkways. Paver slabs. Corridors. Pavements. Patio. Car Porch. Carpark. Swimming Pool Deck. Decking. Yard. Utility Room. Stairs. etc.
Best anti-slip spray for tile floor.
Marble. Granite. Travertine. Onyx Stone. Ceramic Tiles. Porcelain. Quartz. Terracotta. Homogenous. Parquet. Wood. Hardwood. Decking. Acrylic. Vinyl Flooring. Laminate Floor. Concrete. MMA. Pebble Stone. Epoxy Floor Paint. Polyurethane Paint. etc.
YHH PLUS ENTERPRISE.
Address: 58 Ripley Crescent Singapore 556234.
Email: sales@antislipsolution.sg