Slip Resistant Treatment For Anti-Slip Tiles and Epoxy Flooring Paint. Best Clear Non-Slip Coating Spray For Indoor & Anti-Skid Outdoor Tiles & Concrete. Non-Skid Bathroom Floor, Toilet, Kitchen, Shower & Bathtub. HDB Residential, Commercial & Industrial Singapore.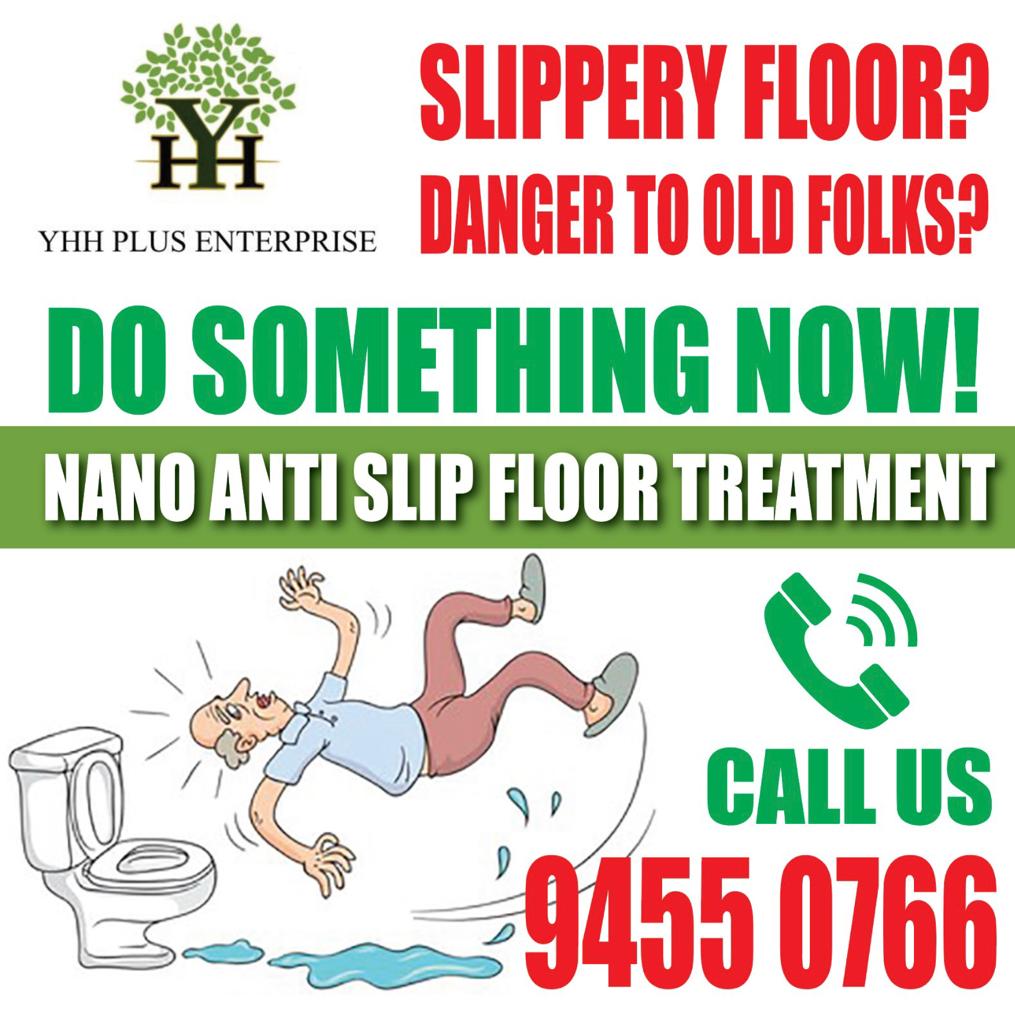 Slip Resistant Tiles & Epoxy Floor.
Slip resistant tiles are commonly known at anti-slip tiles with slip rating R9, R10, R11, R12 and R13. Epoxy flooring are usually created by epoxy resin and a hardener. Epoxy floor coating and paint comes with a single or multiple layers depending on requirements. Sometimes, anti-slip agent, flake, pebble, aggregate and additive are added to increase the slip resistance.
They are commonly used in indoor and outdoor areas. Industrial, commercial, private and HDB residential home. Such as concrete, stairs, slope, ramp, pool and decking for safety reasons.
Non-slip tiles and epoxy floor can still be slippery due to some factors. Especially when the floor is wet and filled with bath and shower foam.
Many slip and fall accidents happen especially in wet shower, bathroom and toilet flooring.
Beside suffering from serious injuries and pain, it could also lead to fatal death. Especially elderly, seniors and young at home.
The aging population in Singapore has risen rapidly. Therefore, the clear need to raise public awareness of fall prevention can help to greatly reduce the risk of slips and falls in wet areas.
The problem is due to misconception of anti-slip flooring. And lack of proper understanding of root issues for slippery floors.
It can be devastating especially when you witness slip and fall happen to your friends, relatives and family members. And you know you can actually prevent it.
This article will share how to make anti-slip floor tiles and epoxy flooring less slippery.
1. Concept.
Firstly, rough texture floor surface may not be real anti-slip. Such as anti-skid floor tiles, non-slip epoxy paint or epoxy flake coating. We always have a misconception is good enough and not slippery.
The flooring must be slip resistant even under wet conditions. And most of time, the floor is even more slippery with soapy water. Beside aesthetic appearance, anti-skid measure for safety flooring is important. Therefore, it is important to keep it clean and dry.
2. Ease of Cleaning.
Again, although anti-slip matte tiles can be better compared to smooth gloss tiles. The rough textured porous tiles or epoxy pebble, chips or flakes can trap dirt, stains and algae more easily. Especially bath and soap build-up. The epoxy floor coating and non-slip tiles become more slippery in a long run.
So choosing the right slip resistant tiles are important. Beside that, it must be easy to maintain clean.
3. Floor Agent & Detergent.
Wrong floor detergent used may result in more slippery floors. Always get a floor cleaner designed for tiles and epoxy paint. And take note of any slippery ingredient inside. This is to prevent getting your non-skid tiles clean but leaving a slippery film on the textured surface.
4. Nano Slip Resistant treatment.
Looking to prevent slippery non-slip tiles, epoxy flake flooring and epoxy paint?
We have the solution for you. YHH nano slip resistant products are specifically designed to greatly improve the slip resistance caused by soapy and wettest surface. And also solve the root issue of dirty tiles or wrong floor detergent used.
YHH Anti-Slip Resistant Coating.
YHH Plus Enterprise specialized in clear slip resistant coating for toilet flooring Singapore. Our specifically designed non-slip coating increase the traction for epoxy floor and paint. Chemical and UV resistant suitable for indoor and outdoor areas.
We also provide anti-slip coating for tiles Singapore. The nano versatile solutions formulated for different tiles aim to maintain the appearance of tiles and greatly increase the slip resistance even on soapy wettest floor.
Moreover, it will not degrade with instant amazing results. No future defects cost will be incurred due to peeling off. The non-slip solution can be reapplied again when is slowly lose it's effectiveness due to dirty tiles.
Find out more for our full range of clear nano anti-skid covering and non-skid coating. Such as anti-slip paint, non-slip spray products for synthetic materials. Such as flake flooring and concrete floor with acrylic or polyurethane paint. It can also be applied to wood, vinyl and laminate. Steel, metal and aluminum. Plastic. fiberglass and acrylic bathtub material.
Take action now for a safer anti-skid flooring. Do not wait for slip and fall accidents to happen. Have a peace of mind for your families and loved ones. Especially elderly, seniors and young at home. Employees and staffs at office and workplace.

YHH Nano Anti-Slip Floor Treatment.
Residential Home (Private & HDB Toilet & Bathroom Floor) | Commercial | Industrial.
Indoor and Outdoor Tiles.
Non-slip bathroom tiles elderly. Toilet anti slip coating. Anti-slip for shower. Anti-skid spray for kitchen. Non-skid outdoor tiles. Bathtub Anti slip spray. etc.
Common Lobby. Walkway. Car Porch. Factory. Corridor. Pavement. Paver. Car Park. Car Porch. Wet Room. Garage. Warehouse. Void Deck. Driveway. Railings. Ramp. Balcony. Utility Room. Patio. Pool Decking. Wood Decking. Back Yard. Stairs. etc.
Best Anti-Slip Coating for Floor Tiles.
Natural Stone. Marble. Onyx Tiles. Travertine. Granite. Quartz. Ceramic Tiles. Mosaic Tiles. Porcelain Tiles. Terracotta. Homogenous Tiles. Stoneware. Limestone. Parquet, Wood. Engineered Timber. Solid Hardwood. Softwood. Composite Decking. Metal. Steel. Aluminum. Acrylic, Fiberglass. MMA. Vinyl Flooring. Laminate Floor. Concrete Cement. Pebble Wash. Polyurethane Floor Paint. etc.
YHH PLUS ENTERPRISE
Address: 58 Ripley Crescent Singapore 556234
Email: sales@antislipsolution.sg