Bathroom Flooring Singapore. Toilet Anti-Slip Coating. Kitchen & Shower Non-Slip Treatment. Non-Skid Epoxy Paint. Anti-Skid Spray For Tiles & Safer Floor. Best Slip Resistant For Elderly. HDB Residential Home, Commercial & Industrial. Indoor & Outdoor Floors.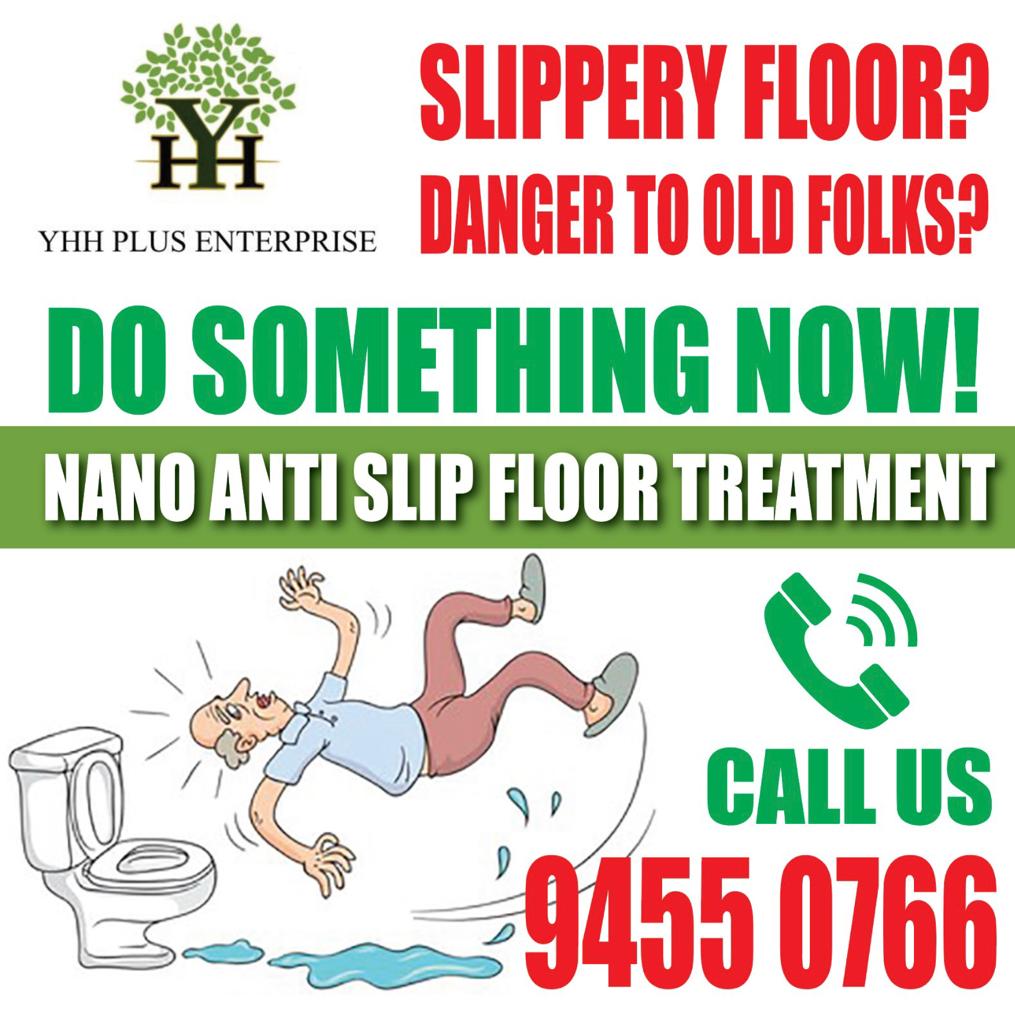 Non-Slip Bathroom Flooring Singapore.
Slip and fall accidents are very common and often under-recognised in our community Singapore. Especially for wet private or HDB toilet and bathroom flooring. If to prevent slippery floors are not addressed, will lead to recurrent falls and poor quality of life.
Beside physically and emotional pain due to slip and falls. It could lead to serious injuries such as broken spine, bone and head.
Falls can also result in fear of falling and post-fall anxiety syndrome and depression. For example, being afraid to enter a wet bathroom & toilet floor. Especially, after experiencing a serious fall before.
In Singapore, statistics show about one-third of people aged 60 and above have suffered a fall at least once. And 40% of these slip and fall accidents lead to injury-related deaths. Out of this 30% will experience recurring falls if the risk factors are not addressed. In fact, there are many cases that victims do not go for A&E emergency hospitals.
Fall prevention can be greatly reduced. If you understand the root issue of slippery floors and prevent it. Especially for older aged seniors, elderly and of course young at home.
Bathroom, toilet, shower and bathtub are the most highly prone to slipping and falling. Due to the wet, shower & bath foam.
The most straightforward and direct method is to apply anti-slip coating. This non-slip floor coating is cost-saving and hassle free. No hacking and toilet overlay of tiles are required.
Why is toilet and bathroom floor slippery?
And often, even anti-slip flooring tiles are slippery due to:
1. Dirty tiles. Such as dirt, stains, bath and shower elements.
2. Wrong cleaning method & floor agents used.
3. Anti-slip flooring that the porous textured surface trap dirt, stains and soap residues more easily.
Below are some common home remedies ideas and methods to make floor less slippery.
1. Keep the floor clean and dry.
2. Free of clusters.
3. Install grip and hand support bars.
4. Proper cleaning and appropriate floor cleaner.
5. Wear a non-slip footwear.
6. Anti-Slip Bath Mat.
7. User-friendly bathroom.
Looking to fix and get rid of slippery toilet tiles?
YHH nano anti-slip floor treatment Singapore are able to resolve the root issue of slippery tiles. In addition, to enhance the slip resistance of flooring. The slip resistant treatment increase the traction even under soapy and wettest flooring.
Our anti-slip floor coating are environmental-friendly, non-toxic and non-corrosive. This is not a chemical acid etching on tiles to leave on to dry. Therefore, it bare-foot and safe for pets and dogs too. Suitable for indoor and outdoor areas. Such as stairs, decking, pools, patio and car porch, etc.
Have a Peace of Mind
Therefore, it is important and essential to enhance the grip for all flooring especially wet areas at home, commercial, industry and public areas.
YHH provide the best anti-slip flooring for bathrooms. This is clear nano solution to greatly increase the slip-resistant of flooring. Ideal for all types of tiles. Such as natural stone, limestone, marble floor, granite, terrazzo and quartz. Ceramic tiles, porcelain, mosaic, stoneware, homogeneous tiles and many more.
You may be interested in other types of extra fine clear epoxy floor coating and slip resistant paint. Include anti-slip spray for wood and decking. For aluminum, iron, steel or metal flooring. Vinyl, laminate, fiberglass and acrylic surface.
Learn how to protect yourself and your loved ones especially elderly, seniors, disabled and young to solve slippery tiles at home. Contact Us Now!

Nano Anti-Slip Resistant Treatment
Residential Home (HDB, Private) | Commercial | Industry
Indoor & Outdoor Non-Slip Flooring.
Bathroom non-slip flooring. Anti-skid toilet floor. Anti-slip for shower, Non-skid kitchen coating. Non- Slip bathtub spray.
Common Lobby, Walkway. Path. Corridor. Pavement. Paver Slab. Patio. Swimming Pool. Balcony. Utility Room. Car Porch. Car Park. Warehouse. Factory. Food Restaurant. Garage. Wood Deck. Decking. Yard. Staircases, etc.
Slip resistant coating for all types of floor surfaces.
Marble, Granite, Ceramic Tiles, Porcelain Tiles, Quartz, Terracotta. Homogenous Tiles, Parquet, Wood Decking. Acrylic, Vinyl Flooring, Laminate Floor. Concrete, Pebble Wash, Epoxy Floor, Floor Paint, etc.
YHH PLUS ENTERPRISE
Address: 58 Ripley Crescent Singapore 556234
Email: sales@antislipsolution.sg