Anti-Slip Coating, Non-Slip Spray Paint, Anti-Skid Treatment For Metal Flooring. Steel Plate, Aluminum & Iron Surface. Indoor & Outdoor Stairs, Ramp & Grating. HDB Residential, Commercial & Industrial Floor Singapore.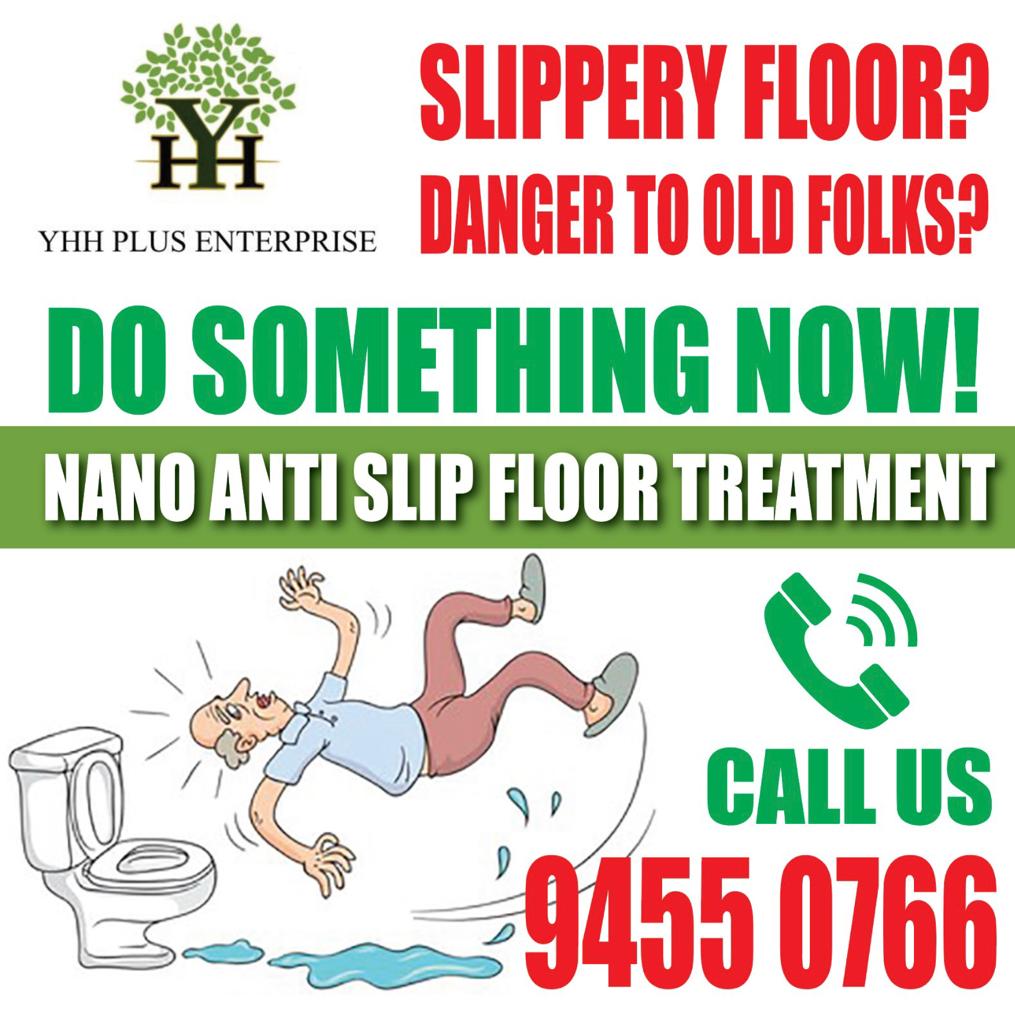 To make metal flooring and grating. Such as steel, aluminum, and iron surfaces less slippery. You can apply various methods and non-slip coating, anti-slip paint, epoxy floor coating and non-skid spray to increase slip resistant. Therefore, it can reduce the risk of slips and falls accidents. Here are some options for indoor and outdoor areas.
1. Textured Finish.
One effective way is to create a textured finish on the surface. This can be achieved through processes like shot blasting, sandblasting, or adding a slip-resistant grit during the painting process. These textures provide better grip.
2. Non-Slip Paint or Coating.
Apply non-slip paint or coatings specifically designed for metal surfaces. These coatings typically contain additives like silica, sand or aluminum oxide to create a rougher texture.
3. Anti-Slip Tape.
Use anti-slip adhesive tapes or strips on the metal surface. These tapes have a textured, abrasive surface that provides traction. They are particularly useful on staircases and walkways.
4. Anti-Slip Mats or Stair Treads.
Place non-slip mats or stair treads on metal or iron steps and walkways. These mats have rubber or other grippy materials to prevent slipping.
5. Grating or Grilles.
Consider using metal grating or aluminum grilles in areas where drainage is essential, like outdoor walkways. The open design allows water to drain, reducing slipperiness.
6. Grind or Etch the Surface.
Roughen the surface with a grinder or etching to create a more textured and less slippery finish.
7. Anti-Slip Coatings with Epoxy Resin.
Epoxy resin coatings can be mixed with non-slip additives to create a slip-resistant surface. This is commonly used in industrial settings.
8. Use Rubber Mats.
Place rubber mats on steel surfaces to provide a cushioned, non-slip surface. This is especially useful in wet environments.
9. Regular Cleaning and Maintenance.
Keep the surfaces clean, dry and free of debris, oil, or water. As these can make any surface slippery.
10. Caution Signs and Handrails.
Install caution signs in slippery areas and consider adding handrails for additional safety.
Nano Anti-Slip Coating For Metal Flooring.
YHH provide the best clear extra fine clear anti-slip epoxy floor paint for metal floor. It is UV resistant which can maintain the existing look. Ideal for indoor and outdoor concrete, metal stairs, steel plate and decking.
Ideal for wood, vinyl, laminate, fiberglass and acrylic surface too.
Let's take a look at YHH non-slip products, anti-slip spray paint and coating for tiles.
Nano YHH Anti-Slip Floor Coating.
YHH offer the best anti-slip floor treatment for tiles Singapore. This is clear nano solution to greatly increase the slip-resistant of tiles. Even on soapy and wettest floor. Such as bathtub, shower, kitchen, bathroom and toilet flooring.
Wide versatile ant-slip floor solutions which is ideal for all types of tiles and natural stone. Such as limestone, marble floor, granite, terrazzo and quartz. Ceramic tiles, porcelain, mosaic, stoneware, homogeneous tiles and many more.
YHH non-slip floor coating is environmental-friendly, non-toxic and non-corrosive.
This is not a chemical acid etching to leave on to dry. Therefore, it barefoot and safe for pets and dogs too. Our floor coating is cost-effective and hassle-free. As no hacking and floor overlay tiles are required.
Suitable for indoor and outdoor areas. Such as stairs, wood, composite decks, pools, patio and car porch, etc.
Learn how to protect yourself and your loved ones. Especially elderly, seniors, disabled and young to remove slippery tiles at home. Employees and staff at workplace. Contact Us Now!

Nano Anti-Slip Floor Treatment.
Residential Home (HDB, Private) | Commercial | Industrial.
Anti-Skid Indoor & Outdoor Tiles.
Non-slip bathroom tiles. Anti-skid toilet floor. Anti-slip for shower. Non-skid kitchen coating. Non-slip bathtub spray.
Common Lobby. Walkway. Path. Corridor. Pavement. Paver Slab. Patio. Swimming Pool. Balcony. Utility Room. Car Porch. Car Park. Warehouse. Factory. Food Restaurant. Garage. Wood Deck. Yard. Staircases, etc.
Best Slip resistant floor treatment for all types of materials.
Marble. Granite. Ceramic Tiles. Porcelain Tiles. Quartz. Terracotta. Homogenous Tiles. Parquet, Hardwood. Composite Wood Decking. Acrylic. Fiberglass. Vinyl Tiles. Laminate Floor. Concrete. Pebble Wash. Polyurethane Paint. Floor Paint, etc.
YHH PLUS ENTERPRISE.
Address: 58 Ripley Crescent Singapore 556234.
Email: sales@antislipsolution.sg