Best Floor Tiles Anti-Slip Solutions. How To Make Slippery Tiles Non-Slip, Slip Resistant & Safer Flooring. Indoor & Outdoor Areas. Wet Room, Shower, Kitchen & Bathtub, Bathroom & Toilet Flooring.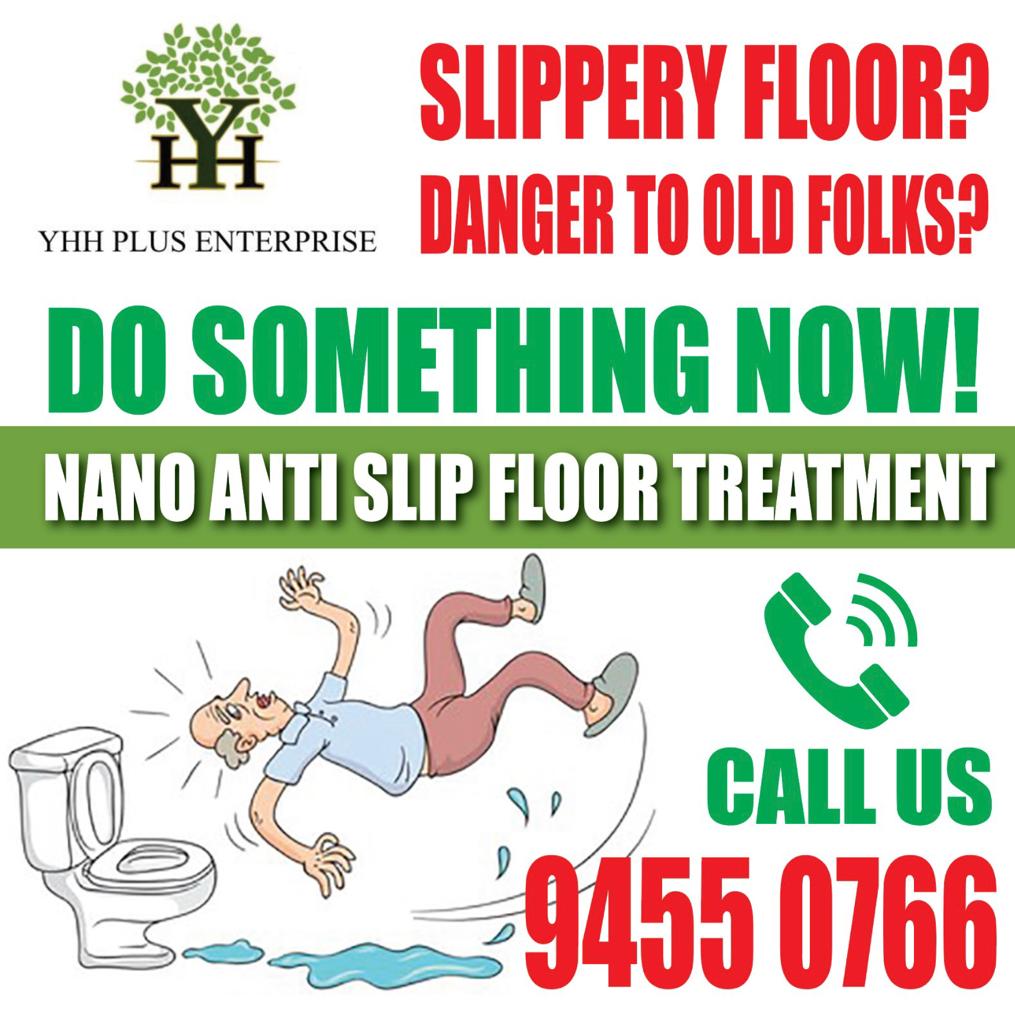 Slippery Floor Tiles Non-Slip Solutions.
Wet rooms, bathrooms, showers and toilets flooring are the number one location where falls occur at home and workplace.
As such, it is paramount to ensure that floor tiles in the wet high traffic areas can provide sufficient friction for users. Especially for elderly, senior and disabled at home.
To begin with, it is important to understand why floor tiles are slippery. Because the surface may trap dirt, stain, algae, grease and essential oils.
This can reduce the traction of the floor tiles in contact with a person's feet. Coefficient of friction (COF) between the feet and floor thus decreases. Therefore, the floor tiles become slippery. 
This article will provide some ideas and recommendations on how to create a safer flooring. Especially for wet bathtub, shower, kitchen, bathroom, toilet flooring. 
1. Use the correct Tiles cleaner.
It is highly recommended to use floor cleaners that can effectively remove stains, dirt. grease and oil. Especially in kitchen, bathtub, toilet bathroom and shower areas.
Such cleaners have a degreasing effect and deep cleaning purposes.
Strong cleaners that are acidic or alkaline can also be used. Depending on the material of the floor surface and anti-slip coating applied. Always read the instructions of the floor cleaner suitable for your flooring.
One should avoid cleaners that contain slippery ingredients. These residues may trap in the textured tiles, making them slippery and dangerous. 
2. Regular Cleaning.
Keep the floor clean and dry to prevent slippery surfaces. Use non-slip cleaning solutions.
Use hot or warm water to rinse the floor thoroughly. Highly recommended to prevent accumulation of stains, dirt and cooking oil. Such as shower floor and kitchen. 
You can use a floor scraper to remove excessive water. If possible, use wet vacuum cleaner for deep cleaning and extracting any dirt or debris on the surface.
3. Apply Non-Slip Tiles Coating.
Anti-slip coating or sealers will greatly increase the grip between the floor and the base of one's feet. This greatly increase grip and slip resistance. Thus, decreasing the odds of fall accidents occurring.
4. Non-Slip Mats or Rugs.
Place non-slip mats or rugs in high-traffic areas, especially in areas prone to water or spills.
5. Choose Slip-Resistant Tiles.
When selecting and replace new tiles, go for those designed with slip resistance in mind. Look for a high coefficient of friction (COF). Such as slip rating R9, R10, R11, R12, R13 tiles and ease of future maintenance.
6. Grout Lines.
Ensure that grout lines are well-maintained and free from mold or mildew. As they can be slippery when wet. Consider using epoxy grout, which is more resistant to moisture.
7. Non-Slip Strips or Tapes.
Apply non-slip strips or tapes on stairs steps. It can increase the traction of staircases from slipping and falling at heights.
9. Choose Matte Finishes Tiles.
Select tiles with a matte or textured finish rather than high-gloss tiles, which can be more slippery.
10. Handrails and Grab Bars.
Install handrails and grab bars. Especially in areas like bathrooms or staircases, to provide additional support.
11. Footwear.
Encourage family members or visitors to wear non-slip footwear indoors and outdoors. Especially in wet or high-risk areas. Such as slope and ramp.
YHH Nano Non-Slip Tiles Treatment.
Looking to avoid and fix slippery tiles?
YHH Plus Enterprise has the solution for you. Overall, our nano anti-slip floor treatment and coating are a practical and cost-effective way to reduce slips and falls. Making them a valuable addition to various HDB residential, commercial and industrials setting Singapore.
The nano anti-slip treatment is UV and chemical resistant and creates an invisible nano slip holes on the tiles which greatly increase the grip even under soapy and wettest floor.
No grits, granules or sand are formed. Therefore, it is easier to maintain even with hard brushing and scrubbing of tiles. The non-skid floor coating will not peel off or degrade.
We are the trusted floor coating specialist and contractor Singapore. YHH anti-slip epoxy floor coating is proven to be cost saving and hassle-free solution to solve slippery floor. No hacking, epoxy floor or tiles overlay is required. In addition, with glowing reviews from homeowners and past projects
BCA and SS485:2001 specification for slip resistance classification of pedestrian flooring, ramp and surface materials.
Exclusive to supply and install in Singapore. Not a DIY anti-skid product.
No future defect cost will be incurred due to removal and cracking.
Suitable for all residential HDB and private homes. Such as bathroom flooring, toilet, shower, bathtub and kitchen. For interior and exterior uses.
It is important to solve the issues of slippery flooring. As recurring falls are often more likely to occur if the problem is not fixed.
Have a peace of mind for your families and loved ones. Especially elderly, seniors and young at home. Employees and staffs at office and workplace.

Check out for more pictures, videos and HDB non-slip treatment reviews. 
Best rated with 5/5 160+ trusted toilet & bathroom flooring reviews.
YHH Nano Anti-Slip Floor Treatment.
Residential Home (Private & HDB Toilet Floor) | Commercial | Industrial.
Indoor and Outdoor Floor.
Non-slip bathroom floor elderly. Toilet anti-slip coating. Anti-slip for shower. Anti-skid spray for kitchen. Non-skid outdoor floor. Bathtub Anti-slip spray. etc.
Common Lobby. Walkway. Car Porch. Factory. Corridor. Pavement. Paver. Car Park. Car Porch. Wet Room. Garage. Warehouse. Void Deck. Driveway. Railings. Ramp. Balcony. Utility Room. Patio. Pool Decking. Wood Decking. Back Yard. Stairs. etc.
Best Anti-Slip Coating for Floor Tiles.
Natural Stone. Marble. Onyx Tiles. Travertine. Granite. Quartz. Ceramic Tiles. Mosaic Tiles. Porcelain Tiles. Terracotta. Homogenous Tiles. Stoneware. Limestone. Parquet, Wood. Engineered Timber. Solid Hardwood. Softwood. Composite Decking. Metal. Steel. Aluminum. Acrylic, Fiberglass. MMA. Vinyl Flooring. Laminate Floor. Concrete Cement. Pebble Wash. Polyurethane Floor Paint. etc.
YHH PLUS ENTERPRISE
Address: 58 Ripley Crescent Singapore 556234
Email: sales@antislipsolution.sg