How To Prevent Slippery Epoxy Flooring, Floor Paint & Spray Coating? Best Clear Anti-Slip. Non-Slip, Anti-Skid, Non-Skid For Tiles. Concrete, Ramp, Driveway. Void Deck, Garage, Car Park. Factory, Warehouse. Restaurant Kitchen & Stairs. For Indoor & Outdoor Areas Singapore.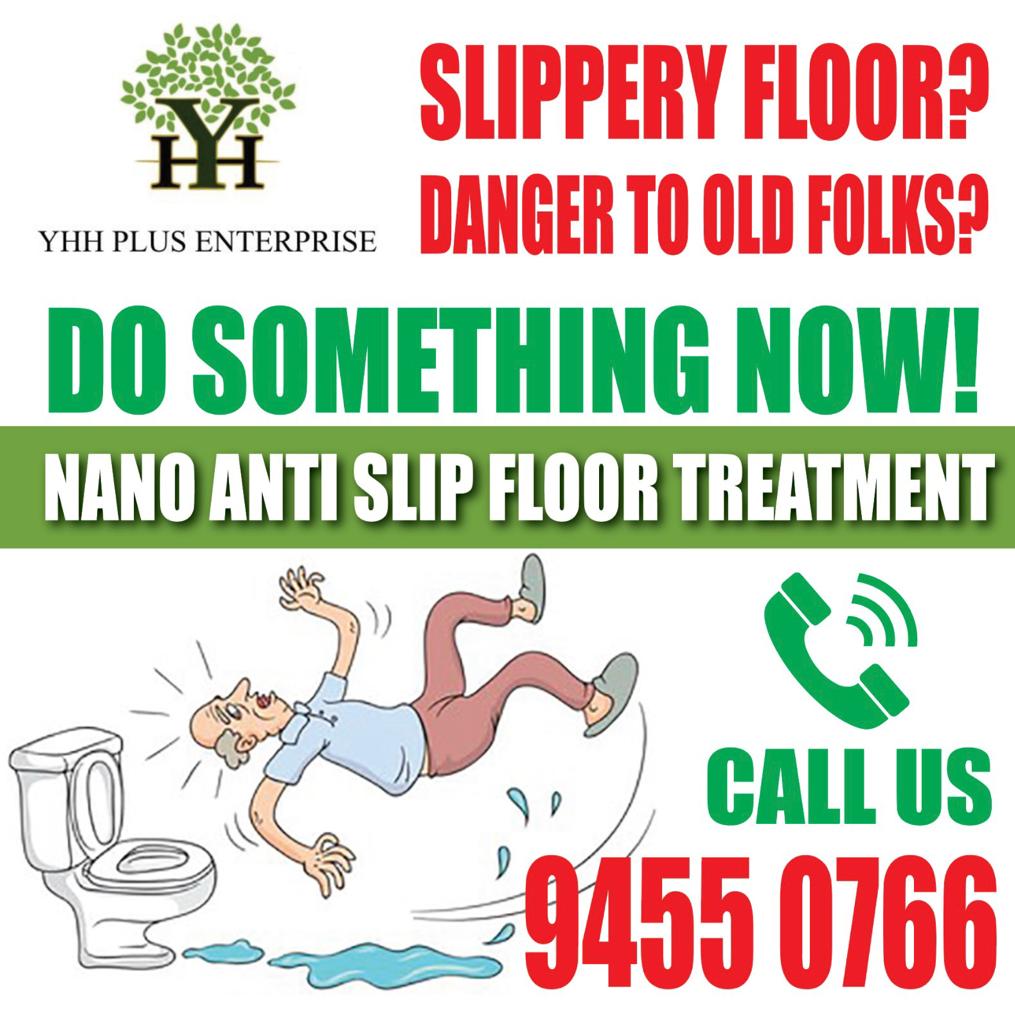 Slippery Epoxy Flooring Paint & Spray Solutions.
How to fix slippery epoxy flooring, floor paint and spray is important. Especially when the surface is wet on raining days.
Solving the slipperiness of epoxy flooring, floor paint or spray-on coatings involves similar strategies.
Here's how to address this issue for each type of floor coating.
1. Clean the Surface.
Cleaning the surface to remove any dirt, grease or contaminants that could contribute to slipperiness.
2. Apply Epoxy Non-Slip Additives.
For epoxy flooring or floor paint.
Mix non-slip additives. Such as silica sand or aluminum oxide into the epoxy or paint before application. Ensure an even distribution.
For spray-on coating.
Some spray-on coatings include non-slip particles in their formulation.
3. Texture the Epoxy Surface.
Epoxy Flooring or Floor Paint.
If the surface is already coated. Consider lightly sanding or texturing the top layer to create more grip. Then apply a clear topcoat with non-slip additives.
Spray-On Coatings.
Some spray-on coatings can be retextured. By spraying a fresh layer over the existing one with added texture.
4. Anti-Slip Coating.
For epoxy or floor paint.
After the initial coating has dried, you can apply a dedicated anti-slip coating designed to increase traction.
For spray-on coatings.
There are compatible anti-slip coatings designed to be applied over the specific spray-on product.
5. Regular Maintenance.
To prevent slipperiness from returning. Maintain a regular cleaning schedule. And remove any substances that may make the surface slippery.
6. Warning Signs.
Installation of warning signs or floor markings can alert people to the potential slipperiness of the surface. Especially during wet conditions.
Anti-Slip Clear Coating For Epoxy Floor Paint & Spray.
If the problem persist. YHH Plus Enterprise is able to solve the issue. Our extra fine clear anti-slip coating are able to enhance the traction further.
We are the trusted floor coating contractor and specialist in Singapore. It's proven to work effectively with raving reviews from homeowners and past projects.
Suitable for all residential HDB and private homes. Such as bathroom flooring, toilet, shower, bathtub and kitchen. For interior and exterior uses.
Exclusive to supply and install in Singapore. Not a DIY non-skid floor product.
You may be interested in YHH best nano anti-slip products. Such as non-skid epoxy paint for other synthetic materials.
1. Anti-Slip Treatment Spray For Tiles.
Looking to treat for anti-slip ceramic tiles, porcelain tiles, mosaic and homogenous floor? There are few types of anti-slip treatment spray for matte tiles. They are specially designed for different nature and color of tiles. Therefore, the floor tiles can retain it's look to achieve the desired slip rating.
2. Non-Slip Coating For Gloss & Polished Tiles.
To maintain the glazed, gloss and polished surface of the tiles. Such as polished porcelain tile. YHH specially designed non-slip tile treatment can maintain the glossiness and strike a balance for slip rating.
3. Anti-Slip Treatment For Marble, Granite & Natural Stone Sealant.
How about marble, granite and natural stone? We have anti-slip sealant for marble, travertine, granite, terrazzo and limestone based flooring. YHH non-slip stone sealer are designed for honed or polished marble and granite.
4. Non-Slip Paint For Vinyl, Laminate, Wood & Epoxy Flooring.
Extra fine clear anti-slip epoxy floor paint singapore and non-slip wood stain are designed for timber and parquet. Vinyl, laminate and rubber flooring. Steel, iron, metal and aluminum. Fiberglass and acrylic materials. It can be applied on concrete floor with epoxy flooring and paint coatings too. UV resistant suitable for outdoor decking, pool and tiles.
Cost Effective & Hassle Free.
YHH nano anti-slip treatment for tiles is non-toxic, eco-friendly and non-corrosive. UV and chemical resistant. Barefoot friendly and safe for dogs and pets too. In addition, deep cleansing and disinfecting agents make the tile cleaner.
The floor coating will not peel off and degrade. Lastly, it is not an acid etching on tiles to leave on. No grits, small particles, additives or sand will be formed. Therefore, make it easier for cleaning maintenance. It also allows hard brushing and scrubbing.
No future defect cost will be incurred due to peeling off and cracking.
No hacking, epoxy floor or overlay tiles is required. Therefore, it is an excellent best choice and cost-effective to solve slippery tiles hazard.
BCA and SS485:2001 specification for slip resistance classification of pedestrian flooring, ramp and surface materials.
Slip and fall accidents can caused serious injuries. Such as fracture, broken bones and spine. Especially on highly risk wet areas. Such as bathtub, shower, kitchen, bathroom and toilet flooring.
Learn how to protect yourself and your loved ones. Especially for elderly, seniors and disabled at home. Employees and co-workers at workplace from slip and fall hazards.


Nano Non-Slip Floor Treatment.
Residential Home (HDB Toilet, Bathroom, Private) | Commercial | Industrial.
Anti-Slip Bathroom Floor Renovation & Contractor Singapore.
Non-slip bathroom tiles. Toilet non-skid coating. Anti-Skid shower treatment. Anti-skid kitchen flooring. Non-skid bathtub spray. etc.
Common Lobbies. Walkways. Paver slabs. Corridors. Pavements. Patio. Garage. Driveways. Factory. Restaurants. Car Park. Paths. Warehouse. Car Porch. Carpark. Swimming Pool Deck. Decking. Yard. Utility Room. Stairs. etc.
Best Non-slip spray for tile floor.
Marble. Granite. Travertine. Onyx Stone. Ceramic Tiles. Porcelain. Quartz. Terracotta. Homogenous. Parquet. Wood. Hardwood. Decking. Acrylic. Vinyl Flooring. Laminate Floor. Concrete. MMA. Pebble Stone. Epoxy Floor Coating. Polyurethane Floor Paint. etc.
YHH PLUS ENTERPRISE
Address: 58 Ripley Crescent Singapore 556234
Email: sales@antislipsolution.sg