Best Non-Slip Coating, Anti-Slip Paint, Non-Skid Spray, Anti-Skid Treatment For Slippery Floor Surface, Concrete & Tiles Materials For Better Grip. Slip Resistant For Indoor & Outdoor. HDB Residential Home, Workplace, Industrial & Commercial Singapore.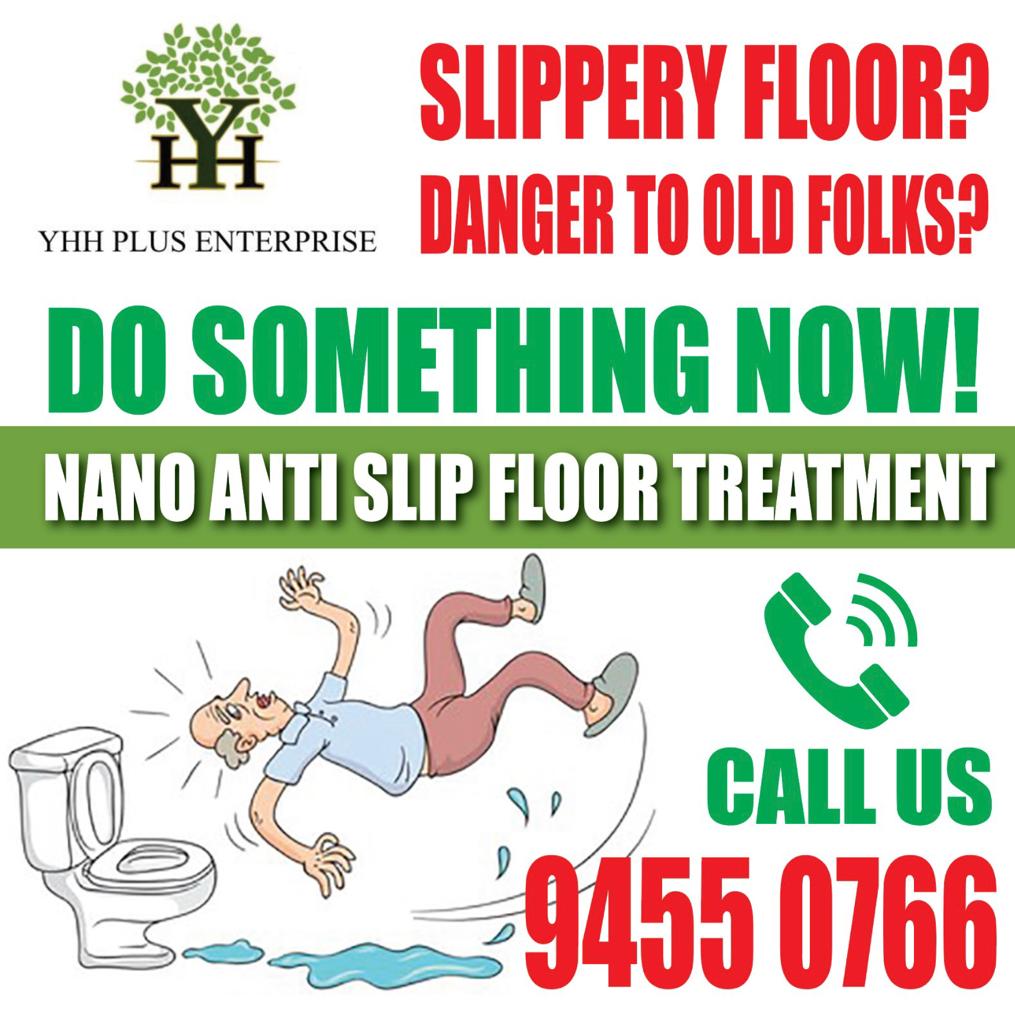 Non-Slip Flooring.
It is essential to create and treat a non-slip surface for slippery floor tiles with better slip resistant that provide more grip. Especially wet room areas are highly prone to slip and fall accidents. Such as bathtub, shower tray, bathroom and toilet floor. The best cost-effective and permanent solution is to apply anti-slip treatment. Which is ideal for all ceramic, porcelain, mosaic and homogenous tiles. Natural stone such as travertine, marble, granite slab, pavers and concrete floor.
Always use anti-slip material with better slip resistance when wet for safety. There are several methods and ways to create a non-slip surface for tiles and floors.
1. Non-Slip Treatment & Epoxy Coating.
There are non-slip coating products that can apply on your slippery floors, concrete or tiles to increase traction. These include anti-slip treatment, epoxy coating, anti-slip paint and non-slip spray. Anti-skid epoxy floor coating with flakes, pebbles, sand, aggregates or additives for public outdoor concrete and pools. Such as walkways, trailers, pathways and pavements.
2. Choose Slip-Resistant Tiles.
When installing new tiles, choose slip-resistant surface with textured or matte finish, as these provide better traction. Avoid high-gloss finishes, as they tend to be more slippery.
Look for floor tiles that are rated for high slip resistance and ease for future cleaning. Such as slip rating R9, R10 and above. Especially in areas like showers, bathrooms, toilets, kitchens or outdoor areas.
3. Use Non-Skid Rugs, Carpet and Mat.
Place anti-slip covering such as anti-skid rugs, carpet or mats. Especially in areas where slipping is a concern for high-risk areas. Such as in front of the sink, shower tray or bathtub. entrances of toilet and bathroom to provide additional traction. Make sure they have non-slip backing.
4. Non-Slip Tapes & Stairs Nosing.
There are many materials suitable for stairs nosing. Such as aluminum and rubber. Anti-slip adhesive tapes can be installed on steps for better slip resistant.
5. Keep Flooring Clean and Dry.
Regularly clean your floors to remove any debris or liquids that can make them slippery. Use absorbent mats near entrances to help trap moisture and dry your feet. Always use the right floor cleaner suitable for your floors that is not slippery.
Slip and fall hazards can suffer from serious injuries and severe pain. Therefore, safety should be a top priority. Especially for aging elderly, seniors, young and older pets like dogs.
Nano Non-Slip Coating For Tile Floors.
Looking to fix, solve and remove slippery floors. YHH Plus Enterprise has the solution for you.
We offer the best nano non-slip floor treatment for tiles Singapore. This is clear innovative anti-slip solution that greatly increase the slip-resistant of tiles even on soapy and wettest floor. Such as bathtub, shower, kitchen, bathroom and toilet floor.
Nano anti-slip floor coating is perfect for all types of tiles and natural stone. Such as limestone, marble floor, granite, terrazzo and quartz. Ceramic tiles, porcelain, mosaic, stoneware, homogeneous tiles and many more.
YHH anti-slip treatment is environmental-friendly, non-toxic and non-corrosive.
This is not a chemical acid etching to leave on to dry. Therefore, it barefoot and safe for pets and dogs too. YHH toilet floor coating is cost-effective and hassle-free. As no hacking and floor tiles overlay are required.
Suitable for interior and exterior areas. Such as stairs, balcony, railing, walkways, travertine pools, patio and car porch, etc.
Let's take a look at YHH anti-slip floor paint and non-skid coating for other floor materials.
Our best performance extra fine clear anti-slip paint are specifically designed for laminate, wood, vinyl, linoleum and floor decking. Which is perfect for fiberglass and acrylic materials too.
The non-slip paint coating is UV resistant which is ideal for indoor and outdoor areas.
Learn how to protect yourself and your loved ones. Especially elderly, seniors, disabled and young to remove slippery tiles at home. Employees and staff at workplace. Contact Us Now!

Nano Anti-Slip Floor Treatment.
Residential Home (HDB, Private) | Commercial | Industrial.
Non-Skid Indoor & Outdoor Tiles.
Non-slip bathroom flooring. Toilet anti-skid coating. Anti-slip for shower. Non-skid kitchen coating. Non-slip bathtub treatment.
Common Lobby. Walkway. Path. Corridor. Pavement. Paver Slab. Patio. Swimming Pool. Balcony. Utility Room. Car Porch. Car Park. Warehouse. Factory. Food Restaurant. Garage. Pool Deck. Yard. Staircase, etc.
Best Slip resistant floor treatment for all types of surface.
Marble. Granite. Ceramic Tiles. Porcelain Tiles. Quartz. Terracotta. Homogenous Tiles. Parquet, Hardwood. Engineered Composite Decking. Acrylic. Fiberglass. Vinyl Tiles. Laminate Floor. Concrete. Pebble Wash. Polyurethane Paint. Epoxy Floor Paint, etc.
YHH PLUS ENTERPRISE.
Address: 58 Ripley Crescent Singapore 556234.
Email: sales@antislipsolution.sg