Toilet Floor Coating, Epoxy Bathroom Tiles Coating. Anti Slip Flooring For Kitchen & Slippery Shower Floor Solutions.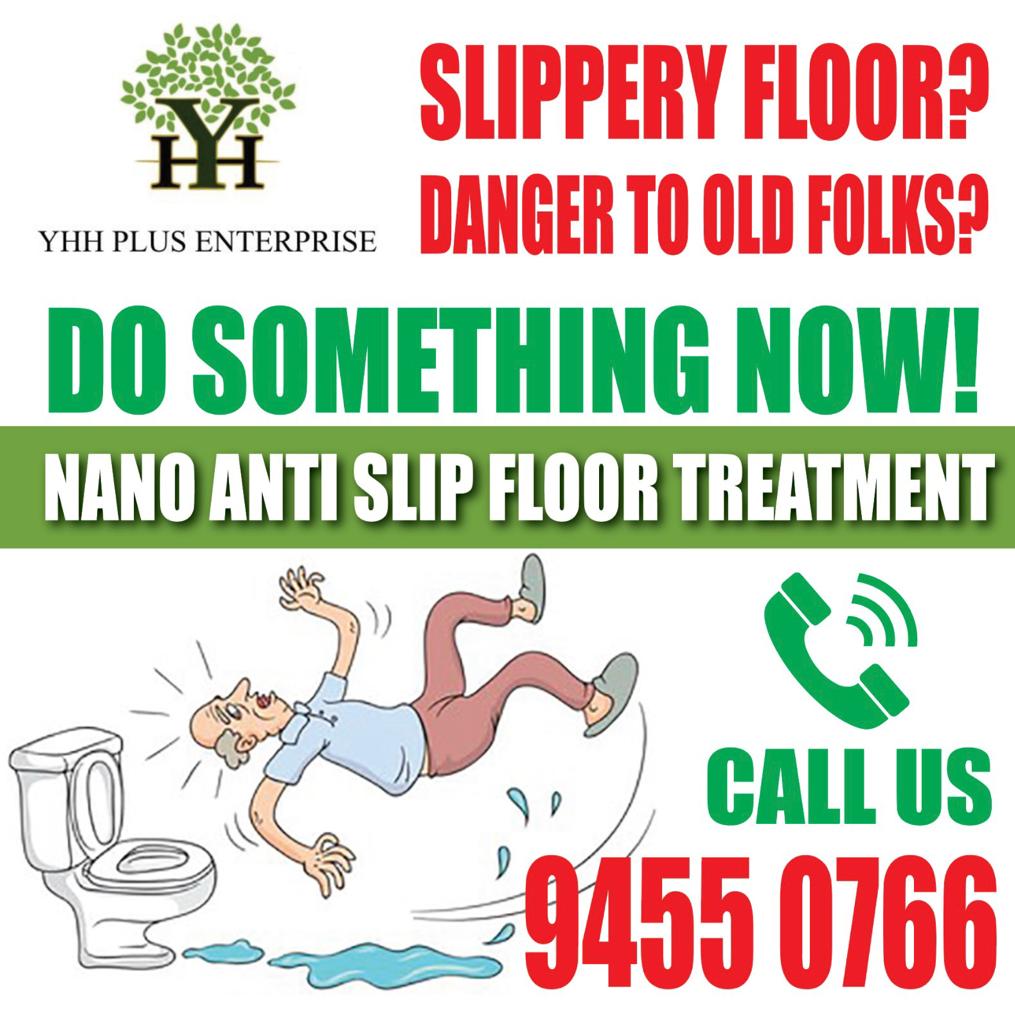 Slip and fall accidents could occur and happen any time in the wet bathroom, toilet, shower and kitchen. The consequence of slippery hazard cannot never be underestimated. Therefore, slip and fall prevention is critical to ensure safety for yourself and loved ones.
Slips and falls can result in minor injuries such as brain, trauma, sprains and bruises.
But nevertheless, severe falls could lead to serious fractures, stroke, broken head, spine, hips, bones and even fatal death.
Victims can be affected physically and emotionally. It may require longer time of habilitation and physiotherapy. Therefore, the recovery period may cause financial burden and stress to family members. And often, senior victims could not recover fully to their previous mobility status due to declining age. It could also lead to common problems such as loss of confidence, depression, isolation, less movement & social activities and more dependent on others.
That's why, non slip toilet floor coating, slippery shower floor solutions, epoxy bathroom tiles coating and kitchen treatment is important and essential due to oil, grime, wet and bath elements.
Why Non Slip Floor Coating is Critical At Home?
The home is a place for safety and comfort. By having anti slip flooring is an important part of that. Anti-slip treatment provide improved safety to lower maintenance costs. Here, we'll look at the benefits of anti slip floor coating at home.
Safety And Prevention
Anti slip floor treatment create infinite microscopic non-slip nano holes on the floor surface. The coefficient of the surface will increase to greatly reduce the risk of slipping and falling.
Easy Maintenance
This is a invisible application on the tiles without granules, grits, resins or aggregate formed. Therefore, it is easier to clean and maintain. Additionally, our anti-slip solutions on tiles have a important component. It act as disinfectant and cleansing agent to remove dirt, bacteria, and grime buildup.
Cost-Effective
Anti slip coating is cost-effective and hassle free than replacing the floor tiles. However, by replacing anti slip tiles, the slippery issue may still persist under soapy and wet conditions.
The nano anti slip application will not degrade and incur future defect cost due to peeling off. Additionally, it can be reapplied over time to maintain its effectiveness.
Conclusion
All in all, anti-slip floor treatment is a great option for any businesses or home. Especially for elderly, seniors citizens, disabled, pregnant wife, young kids, toddlers.
Looking for the best slippery toilet floor solutions to avoid slips and falls at home? YHH Plus Enterprise has the answer for you. We are your trusted home improvement specialists for anti slip floor treatment,  anti slip decking paint. Keep in touch with us now!

Nano Anti Slip Floor Coating
Residential Home (HDB, Private) | Commercial | Industry
Indoor and Outdoor Wet Areas
Non slip bathroom tiles coating. Toilet floor coating. Slippery shower floor solutions. Anti slip flooring for kitchen. Best non-slip bathtubs treatment.
Common Lobbies, Walkways, Corridors, Pavements. Patio, Swimming Pool Deck, Decking, Yard, Staircases, etc.
Anti Slip Floor Coating for all types of floor finish.
Marble, Granite, Ceramic Tiles, Porcelain Tiles, Quartz, Terracotta. Homogenous Tiles, Parquet, Wood Decking. Acrylic, Vinyl Flooring, Laminate Floor. Concrete, Pebble Wash, Epoxy Floor, Floor Paint, etc.
YHH PLUS ENTERPRISE
Address: 58 Ripley Crescent Singapore 556234
Email: sales@antislipsolution.sg