Bathroom Flooring Non-Slip. Toilet Flooring. Best Anti-Slip Floor Coating For Tiles. Non-Skid Floor Paint, Anti-Skid Spray For Epoxy Flake. Tub, Shower & Kitchen Tiles Treatment Singapore. HDB Residential Home, Commercial & Industrial.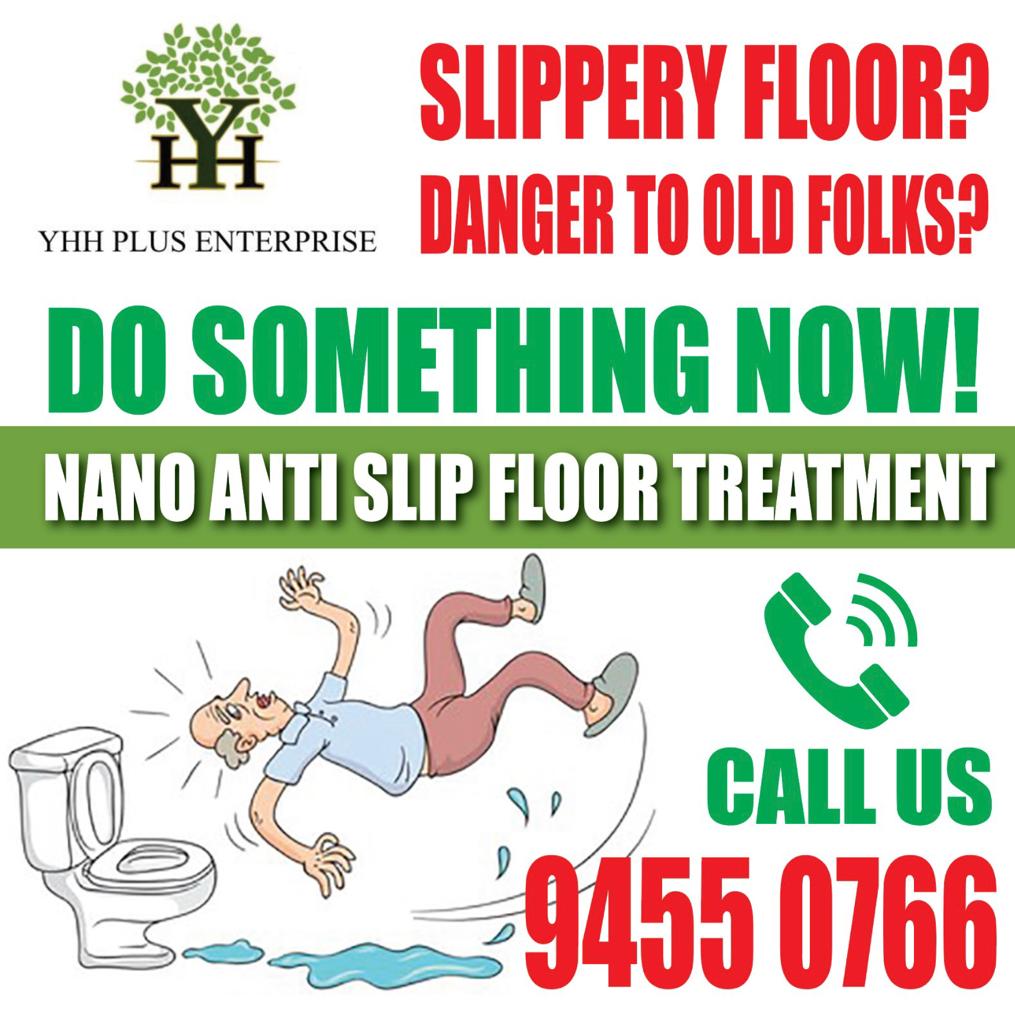 Best Bathroom & Toilet Flooring Anti-Slip Treatment.
Bathroom flooring & toilet flooring is the most dangerous rooms in your house. Because bathroom flooring and toilet is frequently wet with shower foam, bath elements and water.
Therefore, YHH Plus Enterprise provide the best innovative nano clear anti-slip floor treatment to greatly increase the slip resistance of tiles and epoxy floor.
YHH non-slip floor coating and clear tiled floor paint is proven to work effectively under soapy or wettest flooring with the longest lifespan expected.
The new enhanced version can create a amazing extremely high slip resistance for safety.
It is eco-friendly, non-toxic and non-corrosive. Because it is not a etching chemical acid which need to leave on. Therefore, it is barefoot and pet-friendly for dogs and cats too. UV and chemical resistant suitable for indoor and outdoor tiles.
The aging population in Singapore has risen rapidly. Therefore, the clear need to raise public awareness of fall prevention can help to greatly reduce the risk of slips and falls in wet areas.
The problem is due to misconception of anti-slip flooring. And lack of proper understanding of root issues for slippery floors and proper cleaning.
It can be devastating especially when you witness slip and fall happen to your friends, relatives and family members. Especially elderly, seniors and young at home.
Recurring falls most probably will occur if the slippery floors is not fixed. Do something now to protect yourself and your loved ones.
You may be interested in our versatile anti-skid product solutions, floor paint and spray for different tiles and floor materials.
1. Anti-Slip Bathroom Flooring For Tiles.
Looking to treat for anti-slip porcelain tiles, ceramic tiles, mosaic and homogenous floor? There are few types of anti-skid spray coating for matte tiles. They are specifically designed for different nature and color of tiles. Therefore, able to retain  the appearance of existing tiles and attain the desired anti-skid effect.
2. Non-Slip Coating For Glazed, Gloss & Polished Tiles.
To maintain the glazed, gloss and polished surface of the tiles. Such as polished porcelain tiles. YHH specifically designed non-slip tile coating can retain the glossiness and strike a balance for slip rating.
3. Anti-Slip Treatment For Marble, Granite & Natural Stone Sealant.
How about marble non-slip, granite and natural stone? We have anti-slip sealant for marble, travertine, granite, terrazzo and limestone tiles. YHH natural stone non-slip sealer designed for honed or polished marble and granite.
4. Non-Slip Spray For Vinyl, Laminate, Wood & Epoxy Flooring.
Extra fine clear non-skid floor coating, anti-slip paint, spray and anti-slip decking stain. Designed specifically for wood, timber and parquet. Vinyl, laminate and rubber flooring. Steel, iron, metal and aluminum. Bathtub fiberglass and acrylic materials. On concrete floor with epoxy coating and floor paint. UV resistant suitable for outdoor stairs, concrete, decking and tiles.
Bathroom & Toilet Flooring Singapore.
We are the trusted floor coating specialist and contractor Singapore. YHH anti-slip floor coating is proven to be cost effective and hassle free solution to solve slippery tiles. No hacking, epoxy floor or tiles overlay is required. In addition, with glowing reviews from homeowners and past projects.
Exclusive to supply and install in Singapore. Not a DIY non-skid product.
No future defect cost will be incurred due to peeling off and cracking.
Suitable for all residential HDB and private homes. Such as bathroom flooring, toilet, shower, bathtub and kitchen. For interior and exterior uses.
BCA and SS485:2001 specification for slip resistance classification of pedestrian flooring, ramp and surface materials.
Have a peace of mind for your families and loved ones. Especially elderly, seniors and young at home. Employees and staffs at office and workplace.

YHH Nano Anti-Slip Floor Treatment.
Residential Home (Private & HDB Toilet & Bathroom Floor) | Commercial | Industrial.
Indoor and Outdoor Tiles.
Non-slip bathroom tiles elderly. Toilet anti-slip coating. Anti-slip for shower. Anti-skid spray for kitchen. Non-skid outdoor tiles. Bathtub Anti-slip spray. etc.
Common Lobby. Walkway. Car Porch. Factory. Corridor. Pavement. Paver. Car Park. Car Porch. Wet Room. Garage. Warehouse. Void Deck. Driveway. Railings. Ramp. Balcony. Utility Room. Patio. Pool Decking. Wood Decking. Back Yard. Stairs. etc.
Best Anti-Slip Coating for Floor Tiles.
Natural Stone. Marble. Onyx Tiles. Travertine. Granite. Quartz. Ceramic Tiles. Mosaic Tiles. Porcelain Tiles. Terracotta. Homogenous Tiles. Stoneware. Limestone. Parquet, Wood. Engineered Timber. Solid Hardwood. Softwood. Composite Decking. Metal. Steel. Aluminum. Acrylic, Fiberglass. MMA. Vinyl Flooring. Laminate Floor. Concrete Cement. Pebble Wash. Polyurethane Floor Paint. etc.
YHH PLUS ENTERPRISE
Address: 58 Ripley Crescent Singapore 556234
Email: sales@antislipsolution.sg